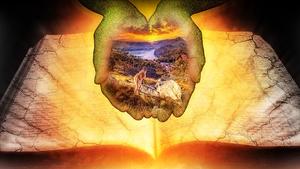 Here you can access annotated bibliographies on the world's religions and their approach to ecology and environmental issues. Below is also a bibliography on Spiritual Ecology. These bibliographies are updated every few years, so may not include the most recent titles. We are grateful for the input of many graduate students over the years.
World Religions

Select a religious tradition from the list on the right to see a bibliography on the intersection of that religion and the ecological challenges our planet is facing.

Select a Religion
See also the very extensive Oxford Bibliography on Religion and Ecology, compiled in 2013 by Mary Evelyn Tucker, John Grim, and members of the Forum team.
Please note that a subscription is require to access the full content on Oxford Bibliographies, but most libraries do subscribe and provide access.
Tucker, Mary Evelyn, John Grim, John, Tara C. Trapani, Leah Snavely, Russell Powell, Matthew T. Riley,. "Religion and Ecology." Oxford Bibliographies in "Ecology." Ed. David Gibson. New York: Oxford University Press, August 26 2013, updated February 2023.
---
Header photo credit: Scarlet Skimmer and red Grasshawk dragonflies, Kaeng Krachan national park, Thailand ©Peter Prokosch, courtesy of UNEP