Below you will find a listing of books and reports related to Laudato Si', followed by a selection of newsletters, discussion guides, and academic journal issues.
Go here for a listing of news articles, archived by year.
Books
Generation Laudato Si': Catholic Youth on Living out an Ecological Spirituality
By Rebecca Rathbone and Simon Appolloni
Twenty-third Publications, 2023

Climate Change and the Symbol Deficit in the Christian Tradition: Expanding Gendered Sources
By Jan-Olav Henriksen
Bloomsbury, 2022

Ecumenical and Interreligious Guidebook: Care for our Common Home
United States Conference of Catholic Bishops, Catholic Association of Diocesan Ecumenical and Interreligious Officers, and Catholic Climate Covenant, 2021

Francis Still Dreams: Five Years After Laudato Si'
By Luca Fiorani
Edizione Francescane Italiane, 2020

Print version available only in Italian; Kindle version available in English
Journeying Towards Care for our Common Home: Five Years after Laudato Si'
By the Interdicasterial Working Group of the Holy See on Integral Ecology
Libreria Editrice Vaticana, 2020
Theology and Ecology in Dialogue: The Wisdom of Laudato Si'
By Dermot A. Lane
Messenger Publications, 2020
Caring For Our Common Home: A Practical Guide to Laudato Si'
By Catherine Wright
Paulist Press, 2020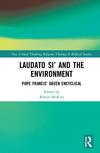 Laudato Si' and the Environment: Pope Francis' Green Encyclical
Edited by Robert McKim
Routledge, 2019
Integral Ecology for a More Sustainable World: Dialogues with Laudato Si'
Edited by Dennis O'Hara, Matthew Eaton, and Michael T. Ross
Lexington Books, 2019
Care for the World: Laudato Si' and Catholic Social Thought in an Era of Climate Crisis
Edited by Frank Pasquale
Cambridge University Press, 2019
The Ten Green Commandments of Laudato Si'
By Joshtrom Isaac Kureethadam
Liturgical Press, 2019
All Creation is Connected: Voices in Response to Pope Francis's Encyclical on Ecology
Edited by Daniel R. DiLeo
Anselm Academic, 2018
Laudato Si': An Irish Response: Essays on the Pope's Letter on the Environment
Edited by Sean McDonagh
Veritas, 2018
Journals, Newsletters, and Discussion Guides
"Our Common Home: A Guide to Caring for our Living Planet"
A joint initiative of the Holy See and the Stockholm Environment Institute
February 14, 2023
"Laudato Si' and the U.S. Catholic Church"
Edited by Daniel R. DiLeo
Special Issue of Journal of Moral Theology, Vol. 9, issue 1
2020
Origins: CNS Documentary Service
Volume 50, Number 25
November 12, 2020
"Laudato Si': On Care For Our Common Home"
Discussion Guide by the United States Conference of Catholic Bishops.
March 2020.
"Vatican COVID-19 Commission. Executive summary: Ecology Taskforce."
Dicastery for Promoting Integral Human Development Newsletter
April 27 - May 3, 2020
"Four Commentaries on the Pope's Message on Climate Change and Income Inequality"
Special issue of The Quarterly Review of Biology (Vol. 91, No. 3)
September 2016
Read "Integrating Ecology and Justice: The Papal Encyclical" by Mary Evelyn Tucker and John Grim

Header photo: "Fridays for Future" demonstration, 2019, Rome, Italy