Books
Ecumenical and Interreligious Guidebook: Care for our Common Home
United States Conference of Catholic Bishops, Catholic Association of Diocesan Ecumenical and Interreligious Officers, and Catholic Climate Covenant, 2021
 
Francis Still Dreams: Five Years After Laudato Si'
Luca Fiorani
Edizione Francescane Italiane, 2020

Print version available only in Italian; Kindle version available in English
Journeying Towards Care for our Common Home: Five Years after Laudato Si'
By the Interdicasterial Working Group of the Holy See on Integral Ecology
Libreria Editrice Vaticana, 2020
Theology and Ecology in Dialogue: The Wisdom of Laudato Si'
By Dermot A. Lane
Messenger Publications, 2020
Caring For Our Common Home: A Practical Guide to Laudato Si'
By Catherine Wright
Paulist Press, 2020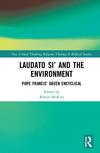 Laudato Si' and the Environment: Pope Francis' Green Encyclical
Edited by Robert McKim
Routledge, 2019
Integral Ecology for a More Sustainable World: Dialogues with Laudato Si'
Edited by Dennis O'Hara, Matthew Eaton, and Michael T. Ross
Lexington Books, 2019
Care for the World: Laudato Si' and Catholic Social Thought in an Era of Climate Crisis
Edited by Frank Pasquale
Cambridge University Press, 2019
Journals and Newsletters
Origins: CNS Documentary Service
Volume 50, Number 25
November 12, 2020
"Vatican COVID-19 Commission. Executive summary: Ecology Taskforce."
Dicastery for Promoting Integral Human Development Newsletter
April 27 - May 3, 2020
News Articles
See the Encyclical page of the Pontifical Council for Justice and Peace
The Dicastery for Promoting Integral Human Development is happy to announce a Special Laudato Si' Anniversary Year from May 24, 2020 – May 24, 2021.
Read news featuring "Amazonia: New Paths for the Church and for an Integral Ecology"
(Special Assembly of the Synod of Bishops for the Pan-Amazon Region, October 6-27, 2019)
 
New solar energy project in Brooklyn Diocese is response to 'Laudato Si"
By Bill Miller, Catholic News Service

Crux
June 15, 2021


Nissan gifts electric vehicle to Vatican as part of shift to battery-powered fleet
By Brian Roewe
EarthBeat
June 10, 2021
Vatican helps get water to hospitals in the 'Global South'
By Loup Besmond de Senneville, La Croix International
EarthBeat
May 31, 2021
Vatican launches seven-year Laudato Si' action plan
By Elise Ann Allen
Crux Now
May 25, 2021
Pope Francis launches program to put Laudato Si' into action throughout church
By Brian Roewe
EarthBeat
May 25, 2021
Vatican official: Church divestment from fossil fuels is 'moral imperative'
By Brian Roewe
EarthBeat
May 20, 2021
Inside the campaign to divest the Catholic Church from fossil fuels
By Brian Roewe
EarthBeat
May 19, 2021
Laudato Si' and Fratelli Tutti call us to encounter the other
By Mary Shaw
Global Sisters Report
May 17, 2021
John Kerry, US climate envoy, meets pope and speaks at Vatican conference
By Cindy Wooden, Catholic News Service
EarthBeat
May 15, 2021
Catholic action on environment set for massive multiplication this Laudato Si' Week
By Brian Roewe
EarthBeat
May 14, 2021
How to bring Laudato Si' into your wardrobe
By Whitney Bauck
EarthBeat
May 7, 2021
In Bangladesh, Catholics plant Laudato Si' trees to buffer against storms
EarthBeat
May 3, 2021
Pope Francis' Advancement of the Catholic Climate Agenda
By Father Raymond J. de Souza
National Catholic Register
April 27, 2021
Pope Francis, in Earth Day messages, warns 'we are at the edge' on climate change
By Brian Roewe
EarthBeat
April 22, 2021
Excerpt: In introducing Francis at the summit, Kerry said, "Few have used their voice in more profound fashion to shape the global climate movement than His Holiness, Pope Francis," adding that "he not only helped make the Paris Agreement possible, but has continued to bring his humble message of justice and solidarity to so many of the world leaders gathered here today." During his Earth Day Live message, Francis said, "We are becoming more and more aware that nature deserves to be protected … with the utmost care and respect" for the planet's biodiversity. Once the destruction of nature is triggered, he added, it becomes difficult to stop. "But we still have time," he added, urging people and countries to work together toward innovations and new pathways to make the world a better place than before the pandemic.
New Director Named for Elliott Allen Institute for Theology and Ecology
University of St. Michael's College in the University of Toronto
April 22, 2021
Now playing: Pope Francis' ecological encyclical set to music
By Barbara Fraser

EarthBeat

April 22, 2021
Evolutionary living through mutual mentoring
By Judith Best
Global Sisters Report
April 19, 2021
Letter of His Holiness Pope Francis to the Participants in the 2021 Spring Meetings of the World Bank Group and International Monetary Fund
Vatican News
April 4, 2021
US Catholic church is failing to respond to climate emergency, theologian says
By Brian Roewe

EarthBeat

March 26, 2021
Laudato si' Circle in Assisi: a gift serving the poor and creation
By Giada Aquilino

Vatican News

March 16, 2021
Cupich: Libertarian ideology hinders Laudato Si' adoption in the church
By Brian Roewe
EarthBeat
March 4, 2021
Laudato Si' Platform rollout, diocesan farm for poor highlighted at social justice conference
By Brian Roewe
EarthBeat
February 9, 2021
How a Young Activist Is Helping Pope Francis Battle Climate Change
By David Owen
The New Yorker
February 1, 2021
What are Pope Francis and the Vatican doing to fight climate change?
By Ricardo da Silva, S.J.
America: The Jesuit Review

January 28, 2021
Parishes can put Laudato Si' into action using new interreligious guide
By Brian Roewe
EarthBeat
January 26, 2021
2021 seen as a year to make up lost ground on climate change
By Brian Roewe
EarthBeat
January 8, 2021
Extreme heat, wildfires, storms marked advance of climate change in 2020

By Dennis Sadowski, Catholic News Service
EarthBeat

December 29, 2020
Brazil: taking responsibility for creation along the Paranapanema River
By Andressa Collet
Vatican News
December 15, 2020
Economy of Francesco imagines an inclusive, sustainable world
By Brian Roewe
National Catholic Reporter
November 20, 2020
Laudato si' in Australia: a conversion story
By Giada Aquilino
Vatican News
November 17, 2020
Climate crisis, COVID-19 demand interfaith action, say religious leaders
By Brian Roewe
National Catholic Reporter
November 6, 2020
Religion and Integral Ecology: Five Years of Laudato Si
The Berkley Center for Religion, Peace & World Affairs
November 4, 2020
Brazilian archdiocese joins plastic recycling program to reduce ocean waste
By Lise Alves
Catholic News Service
October 23, 2020
The inauguration of the "Laudato si' Garden", a symbol of a new model of development
Dicastery for Promoting Integral Human Development
September 25, 2020
Pope: Compassion for earth is vaccine against epidemic of indifference
Catholic Universe
September 15, 2020
EarthBeat Weekly: Pope Francis' ecological conversion on the way to Laudato Si'
By Barbara Fraser
National Catholic Reporter
September 11, 2020
Pope Francis will sign new encyclical on human fraternity at the tomb of St. Francis of Assisi
By Gerard O'Connell
America: The Jesuit Review

September 5, 2020
Pope Francis on the 'ecological conversion' that led him to 'Laudato Si'
By Gerard O'Connell
America: The Jesuit Review
September 3, 2020





Pope Francis: a new encyclical to outline his post-COVID 19 vision?
By Andrea Gagliarducci
Catholic News Agency
September 1, 2020
Pope Francis could launch new encyclical in September
Rome Reports
September 1, 2020
Pope: peace with Creator, harmony with creation
By Vatican News
September 1, 2020
'Creation Is Groaning!': Pope Francis Denounces Endless Growth, Humanity's Assault on Nature
By Andrea Germanos
Common Dreams
September 1, 2020
Virginia shines as solar hot spot in Catholic Energies expansion
By Brian Roewe
National Catholic Reporter
August 12, 2020
Polarized U.S. publics, Pope Francis, and climate change: Reviewing the studies and data collected around the 2015 Papal Encyclical
By Asheley R. Landrum and Rosalynn Vasquez
WIREs Climate Change
August 10, 2020 

Five Years After Speaking Out on Climate Change, Pope Francis Sounds an Urgent Alarm
By James Bruggers
Inside Climate News
August 7, 2020
Pope at Audience launches new catechesis series on healing the world
By Robin Gomes
Vatican News
August 5, 2020
Pope Francis discusses climate crisis with well-known Italian journalist
By Gerard O'Connell
America: The Jesuit Review
August 2, 2020
Theologian praises Ireland's green new deal but questions: Will it happen?
By Sarah Mac Donald
National Catholic Reporter
July 24, 2020
UK faith leaders call for environment-focused economic recovery
Independent Catholic News
July 5, 2020
Discovering ecological conversion in the spirit of Laudato Si'
By Doug DeMeo
National Catholic Reporter
July 3, 2020
Discerning what the Vatican really means when it comes to divestment
By Bill Mitchell
National Catholic Reporter
June 19, 2020
Vatican urges Catholics to drop investments in fossil fuels, arms
By Philip Pullella
Reuters
June 18, 2020
Vatican document on integral ecology: Safeguarding Creation is everyone's responsibility
By Isabella Piro
Vatican News
June 18, 2020
New Vatican document outlines city-state's environmental efforts
226-page report includes suggestions for Catholic institutions, including divestment
By Joshua J. McElwee
National Catholic Reporter

June 18, 2020
Dominican sisters commit $46 million to seed new climate solutions funds
By Brian Roewe
National Catholic Reporter
June 18, 2020
Season of Creation to take place during special Laudato Si' Year
By Devin Watkins
Vatican News
May 25, 2020
Year-long celebration to mark fifth anniversary of Laudato Si'
By Hannah Brockhaus
Herald Mayalsia
May 24, 2020
During Laudato Si' Week, 24 Catholic entities divest from fossil fuels
By Dennis Sadowski
Catholic Standard
May 23, 2020
Laudato sì in a time of COVI-19: Cry of the poor and cry of the Earth are connected
By Paul Samasumo
Vatican News
May 22, 2020
Laudato Si' at five: Dioceses embrace pope's call for care of the earth
By Dennis Sadowski
Crux
May 20, 2020
https://cruxnow.com/church-in-the-usa/2020/05/laudato-si-at-five-diocese…
For encyclical anniversary, @billmckibben has an idea for @Pontifex
By Bill McKibben
National Catholic Reporter
May 19, 2020
https://www.ncronline.org/news/earthbeat/encyclical-anniversary-billmcki…
Vatican announces Laudato Si' anniversary year
By Junno Arocho Esteves
Catholic News Service
May 18, 2020
https://www.catholicnews.com/services/englishnews/2020/vatican-announces…
Vatican office invites church on journey to 'total sustainability' in next decade
By Brian Roewe
National Catholic Reporter
May 17, 2020
https://www.ncronline.org/news/earthbeat/vatican-office-invites-church-j…
Here's what to expect for Laudato Si' Week as pope's ecology document turns five
By Brian Roewe
National Catholic Reporter
May 15, 2020
https://www.ncronline.org/news/earthbeat/heres-what-expect-laudato-si-we…
Clergy: Urgency in pandemic response can apply to addressing climate change
by Dennis Sadowski, Catholic News Service
National Catholic Reporter
May 14, 2020
https://www.ncronline.org/news/earthbeat/clergy-urgency-pandemic-respons…
'Laudato Tree Project' aims for a greener future
Catholic Outlook
May 14, 2020
https://www.catholicoutlook.org/laudato-tree-project-aims-for-a-greener-…
U.S.  Catholics  celebrate  5th  anniversary of Pope Francis' call to care for  our common home  
Catholic Climate Covenant  
May 11, 2020
https://www.einnews.com/pr_news/516731253/u-s-catholics-celebrate-5th-an…
Jubilee for the Earth - looking to Laudato Si' Week
By Ellen Teague
Independent Catholic News
May 10, 2020
https://www.indcatholicnews.com/news/39543
Laudato Si' at five: Dioceses embrace pope's call for care of the earth
By Dennis Sadowski
Catholic News Service
April 27, 2020
https://angelusnews.com/news/world/laudato-si-at-five-dioceses-embrace-p…
Pope says coronavirus pandemic could be nature's response to climate crisis
By Delia Gallagher
CNN
April 8, 2020
https://www.cnn.com/2020/04/08/europe/pope-francis-coronavirus-nature-re…
Francis issues 'urgent call' with plans for fifth anniversary of Laudato Si'
By Brian Roewe
National Catholic Reporter
March 3, 2020
https://www.ncronline.org/news/earthbeat/francis-issues-urgent-call-plan…
'Laudato Si'' at five: Project seeks to foster prayerful climate action
By Dennis Sadowski
Catholic News Service
Angelus News
February 20, 2020
https://angelusnews.com/faith/laudato-si-at-five-project-seeks-to-foster…
Australian fires underline pope's focus on biodiversity in Laudato Si'
By Jesse Remedios
National Catholic Reporter
January 24, 2020
https://www.ncronline.org/news/earthbeat/australian-fires-underline-popes-focus-biodiversity-laudato-si
Retreat center shows that going green also saves some green
By Nick Mayrand
Crux
January 24, 2020
https://cruxnow.com/church-in-the-usa/2020/01/retreat-center-shows-that-going-green-also-saves-some-green/
The ecological significance of the Eucharist
By Daniel P. Horan
National Catholic Reporter
January 22, 2020
https://www.ncronline.org/news/earthbeat/faith-seeking-understanding/ecological-significance-eucharist
Notre Dame ceases use of coal year ahead of schedule, heeds pope's call to care for Earth
By Marissa Gebhard, Office of the Executive Vice President
Notre Dame Works
January 6, 2020
https://ndworks.nd.edu/news/heeding-the-popes-call-to-care-for-mother-earth/
First Catholic dioceses in England divest from fossil fuels
Operation Noah
Independent Catholic News
January 6, 2020
https://www.indcatholicnews.com/news/38660
Lessons for COP 26 from the Amazon Synod
By Felicio Pontes Jr.
National Catholic Reporter
December 26, 2019
https://www.ncronline.org/news/earthbeat/lessons-cop-26-amazon-synod
Vatican calls Greta Thunberg 'great witness' of Church's environmental teaching
By Elise Harris, Crux Now
Angelus
December 13, 2019
https://angelusnews.com/news/vatican/vatican-calls-greta-thunberg-great-witness-of-churchs-environmental-teaching/
Pope demands action for failing fight against climate change
By Paige Hanley
Crux
December 4, 2019
https://cruxnow.com/vatican/2019/12/pope-demands-action-for-failing-fight-against-climate-change/
Francis challenges UN climate summit to summon 'far-sighted and strong political will'
By Brian Roewe
National Catholic Reporter
December 4, 2019
https://www.ncronline.org/news/earthbeat/francis-challenges-un-climate-summit-summon-far-sighted-and-strong-political-will
Meet the monks who decided to go green years before "Laudato Si' "
By Catholic News Agency
Catholic Sentinel
November 29, 2019
https://catholicsentinel.org/Content/Default/Homepage-Rotator/Article/Meet-the-monks-who-decided-to-go-green-years-before-Laudato-Si-/-3/382/38852
Catechism will be updated to include ecological sins, pope says
By Junno Arocho Esteves, Catholic News Service
National Catholic Reporter
November 15, 2019
https://www.ncronline.org/news/earthbeat/catechism-will-be-updated-include-ecological-sins-pope-says
How four dioceses are actually doing something about the climate crisis
By Brian Roewe
National Catholic Reporter
November 8, 2019
https://www.ncronline.org/news/earthbeat/how-four-dioceses-are-actually-doing-something-about-climate-crisis
Pope Francis reflects on 3 decades of international cooperation on climate change
By Claire Giangrave
Religion News Service
November 7, 2019
https://religionnews.com/2019/11/07/pope-francis-reflects-on-3-decades-of-international-cooperation-on-climate-change/
Taiwan's green energy giant aims to shed light on Pope's 'Laudato Si"
By Elise Harris
Crux
November 1, 2019
https://cruxnow.com/church-in-asia/2019/11/01/taiwans-green-energy-giant-aims-to-shed-light-on-popes-laudato-si/
When did the Catholic Church begin to address climate change?
National Catholic Reporter
October 25, 2019
https://www.ncronline.org/news/earthbeat/when-did-catholic-church-begin-address-climate-change
Pope Francis: The Christian foundations for the care of creation
Vatican News
October 24, 2019
https://www.vaticannews.va/en/pope/news/2019-10/pope-francis-the-christian-foundations-for-the-care-of-creation.html
Priest and nun arrested in climate change protests
By Bernadette Kehoe
Independent Catholic News
October 14, 2019
https://www.indcatholicnews.com/news/38087
Solutions to save, protect forests needed 'without delay,' says cardinal
Catholic News Service
Crux
September 24, 2019
https://cruxnow.com/vatican/2019/09/25/solutions-to-save-protect-forests-needed-without-delay-says-cardinal/
Pope to UN summit: Climate change linked to ethical decline
By Courtney Mares
Catholic News Agency
September 24, 2019
https://www.catholicnewsagency.com/news/pope-to-un-summit-climate-change-linked-to-ethical-decline-81105
Activists say the Church needs to 'scale up' in face of climate emergency
By Christopher White
Crux
September 23, 2019
https://cruxnow.com/church-in-the-usa/2019/09/23/activists-say-the-church-needs-to-scale-up-in-face-of-climate-emergency/
Catholic school students mix faith and activism at climate change rally
By Carol Zimmerman
Catholic News Service
Catholic San Francisco
September 20, 2019
https://www.catholic-sf.org/news/catholic-school-students-mix-faith-and-activism-at-climate-change-rally
Catholic network: Nations have 'moral duty' to fight climate change
By Simon Caldwell
September 20, 2019
Catholic News Service
Crux
https://cruxnow.com/church-in-the-usa/2019/09/20/catholic-network-nations-have-moral-duty-to-fight-climate-change/
Intergenerational solidarity: Elders join youth in climate strikes
By Brian Roewe
National Catholic Reporter
September 19, 2019
https://www.ncronline.org/news/environment/intergenerational-solidarity-elders-join-youth-climate-strikes
Massachusetts Catholic bishops call for action on climate change, environmental protection
By Anne-Gerard Flynn
Mass Live
September 16, 2019
https://www.masslive.com/news/2019/09/massachusetts-catholic-bishops-cal…
Our 'common home' is burning
By Miguel H. Díaz
National Catholic Reporter
September 10, 2019
https://www.ncronline.org/news/environment/theology-en-la-plaza/our-comm…
Francis urges Madagascar's leaders to protect island's unique ecosystem
By Joshua J. McElwee
National Catholic Reporter
September 7, 2019
https://www.ncronline.org/news/environment/francis-urges-madagascars-lea…
For Pope Francis, a Perfect Moment for an Unsettling Warning on the Environment
By Jason Horowitz
New York Times
September 7, 2019
https://www.nytimes.com/2019/09/07/world/africa/pope-africa-climate-chan…
Pope urges politicians to take 'drastic measures' on climate change
By Philip Pullella
Reuters
September 1, 2019
https://www.reuters.com/article/us-environment-pope/pope-urges-politicia…
Catholic Energies is on a mission to bring "Laudato Si'" to life
By J-P Mauro
Aleteia
August 9, 2019
https://aleteia.org/2019/08/09/catholic-energies-is-on-a-mission-to-brin…
Minnesota churches move to bring 'Laudato Si' into parish life
By Dennis Sadowski, Catholic News Service
National Catholic Reporter
July 24, 2019
https://www.ncronline.org/news/environment/minnesota-churches-move-bring…
Climate should be 'a central priority' for US church, says Bishop McElroy
By Brian Roewe
National Catholic Reporter
July 23, 2019
https://www.ncronline.org/news/environment/climate-should-be-central-pri…
Young people's activism is sign of hope for Earth, says Cardinal Turkson
By Frederick Nzwili, Catholic News Service
National Catholic Reporter
July 17, 2019
https://www.ncronline.org/news/people/young-peoples-activism-sign-hope-e…
Filippine bishops issue pastoral letter on "climate emergency"
By Robin Gomes
Vatican News
July 16, 2019
https://www.vaticannews.va/en/church/news/2019-07/philippines-bishops-cb…
Amid climate threat, Catholics pursue ecological conversion in US church
By Brian Roewe
National Catholic Reporter
July 11, 2019
https://www.ncronline.org/news/environment/amid-climate-threat-catholics…
The Vatican and UN Environment bring faith organizations together to "care for our common home"
UN Environment
July 8, 2019
https://www.unenvironment.org/news-and-stories/story/vatican-and-un-envi…
Perspective: Global country-by-country response of public interest in the environment to the papal encyclical, Laudato Si′
By Malcolm L.McCallum
Biological Conservation, Vol. 235
July 2019
https://www.sciencedirect.com/science/article/abs/pii/S0006320718315477
How do you teach a 'teaching document'? Arizona high school shows how
By Mark Pattison, Catholic News Service
Global Sisters Report
June 27, 2019
https://www.globalsistersreport.org/news/environment/how-do-you-teach-te…
'Laudato Si'' calls us to ecological conversion. What does that look like?
By William Critchley-Menor, S.J.
America: The Jesuit Review
June 18, 2019
https://www.americamagazine.org/faith/2019/06/18/laudato-si-calls-us-eco…
In pastoral statement, California bishops outline Laudato Si' action plan
By Brian Roewe
National Catholic Reporter
June 18, 2019
https://www.ncronline.org/news/environment/pastoral-statement-california…
California's bishops call for ecological conversion on 'Laudato si' milestone
By Christopher White
Crux
June 18, 2019
https://cruxnow.com/church-in-the-usa/2019/06/18/californias-bishops-cal…
Pope Francis declares 'climate emergency' and urges action
By Fiona Harvey and Jillian Ambrose
The Guardian
June 14, 2019
https://www.theguardian.com/environment/2019/jun/14/pope-francis-declare…
Pope Francis on climate change: Time is of the essence
Vatican News
May 28, 2019
https://www.vaticannews.va/en/pope/news/2019-05/pope-francis-on-climate-…
Cardinal Turkson on Fourth Anniversary of Pope Francis' Encyclical Laudato si'
ZENIT
May 24, 2019
https://zenit.org/articles/cardinal-turkson-on-fourth-anniversary-of-pop…
Laudato Si' Generation rallies Catholic youth for climate strikes
By Brian Roewe
National Catholic Reporter
May 24, 2019
https://www.ncronline.org/news/environment/laudato-si-generation-rallies…
Interest in protecting environment up since Pope's 2015 encyclical
By John Cannon
Mongabay
May 21, 2019
https://news.mongabay.com/2019/05/interest-in-protecting-environment-up-…
Conservationists at Vatican conference call for protecting biodiversity
By Carol Glatz, Catholic News Service
National Catholic Reporter
May 17, 2019
https://www.ncronline.org/news/environment/conservationists-vatican-conf…
Q & A with Sr. Sheila Kinsey, advocating for Earth through Sowing Hope for the Planet
By Brian Roewe
National Catholic Reporter
May 14, 2019
https://www.globalsistersreport.org/blog/q/environment/q-sr-sheila-kinse…
Respect rights of indigenous people, culture, pope tells mining industry
By Junno Arocho Esteves, Catholic News Service
National Catholic Reporter
May 3, 2019
https://www.ncronline.org/news/vatican/francis-chronicles/respect-rights…
Two generations, one prophetic call for climate justice
By Tomás Insua
National Catholic Reporter
April 25, 2019
https://www.ncronline.org/news/environment/two-generations-one-prophetic…
Pope Francis meets with climate-strike teen Greta Thunberg
By Joshua J. McElwee
National Catholic Reporter
April 17, 2019
https://www.ncronline.org/news/environment/pope-francis-meets–climate-s…
Pope's greeting of young climate change activist checks all his boxes
By Elise Harris
Crux
April 17, 2019
https://cruxnow.com/church-in-europe/2019/04/17/popes-greeting-of-young-…
Would Pope Francis back the Green New Deal?
By Brian Roewe
National Catholic Reporter
April 15, 2019
https://www.ncronline.org/news/environment/would-pope-francis-back-green…
Where science warnings fail, can moral force push us out of climate inertia?
By Brian Roewe
National Catholic Reporter
April 8, 2019
https://www.ncronline.org/news/environment/where-science-warnings-fail-c…
Holy See: Church is committed to integral ecology of indigenous people
By Robin Gomes
Vatican News
March 20, 2019
https://www.vaticannews.va/en/vatican-city/news/2019-03/holy-see-un-auza…
Irish prelate channels pope's environmental message on Christmas
By Christopher White
Crux
December 25, 2018
https://cruxnow.com/church-in-uk-and-ireland/2018/12/25/irish-prelate-ch…
Pilgrims march to demand action on climate change
By Todd Dagwell
MNnews
December 7, 2018
http://mnnews.today/church/2018/36148-climate-change-pilgrimage/
Vatican speaker: How Catholics can join pope's climate 'revolution'
By Christina Gray
Catholic San Francisco
September 27, 2018
https://catholic-sf.org/news/vatican-speaker-how-catholics-can-join-pope…
Vatican must keep up its clear, inspiring leadership in climate crisis
By Archbishop Peter Chong
National Catholic Reporter
September 24, 2018
https://www.ncronline.org/news/environment/eco-catholic/vatican-must-kee…
Seattle University Board Votes to Divest from Fossil Fuels
Seattle University
September 19, 2018
https://www.seattleu.edu/president/update/seattle-university-board-votes…
Despite crisis, activist says Catholics "still in" on climate change fight
By Christopher White
Crux
September 17, 2018
https://cruxnow.com/church-in-the-usa/2018/09/17/despite-crisis-activist…
19 more Catholic institutions divest from fossil fuel industry
By Dennis Sadowski
Crux
September 11, 2018
https://cruxnow.com/church-in-the-usa/2018/09/11/19-more-catholic-instit…
Pope: Pray, act to protect clean water, guarantee access to it
By Cindy Wooden, Catholic News Service
National Catholic Reporter
September 4, 2018
https://www.ncronline.org/news/environment/francis-chronicles/pope-pray-…
Pope calls for action on 'emergency' of plastics littering oceans
By Josh Gabbatiss, Science Correspondent
Independent
September 1, 2018
https://www.independent.co.uk/environment/pope-francis-plastic-pollution…
Irish bishops announce divestment from fossil fuels ahead of the pope's visit
By Christine A. Scheller
Religion News Service
August 25, 2018
https://religionnews.com/2018/08/25/irish-bishops-announce-divestment-fr…
Cardinal shares message of 'Laudato Si" at Ghana World Youth Day event
By Damian Avevor, Catholic News Service
National Catholic Reporter
August 8, 2018
https://www.ncronline.org/news/environment/cardinal-shares-message-lauda…
Canadian ecumenical document embraces Christian concern for environment
By Michael Swan, Catholic News Service
National Catholic Reporter
August 2, 2018
https://www.ncronline.org/news/environment/canadian-ecumenical-document-…
Vatican's former legal chief says canon law should include care of creation
By Elise Harris
Catholic News Agency
July 17, 2018
https://www.catholicnewsagency.com/news/vaticans-ormer-legal-chief-says-…
The world needs a change of heart on environmental issues, pope says
By Hannah Brockhaus
Catholic News Agency
July 6, 2018
https://www.catholicnewsagency.com/news/the-world-needs-a-change-of-hear…
'Laudato Si' Three Years Later: The US Response
By Judy Roberts
National Catholic Register
July 5, 2018
http://www.ncregister.com/daily-news/laudato-si-three-years-later-the-us…
Al Gore: Pope Francis a 'moral force' for solving climate crisis
By Alessandro Gisotti
Vatican News
July 4, 2018
http://fore.yale.edu/news/item/al-gore-pope-francis-a-moral-force-for-so…
Major new research institute at Campion Hall
Jesuits in Britain
July 2, 2018
https://www.jesuit.org.uk/major-new-research-institute-campion-hall
Leading Economist Champions Pope Francis' 'Laudato Si'
By Christopher White
The Tablet
June 30, 2018
https://thetablet.org/leading-economist-champions-pope-francis-laudato-si/
Pope Francis challenges fossil fuel execs to act now
By Tony Magliano
National Catholic Reporter
June 29, 2018
https://www.ncronline.org/news/environment/making-difference/pope-franci…
Climate change is a top spiritual priority for these religious leaders
By Juliet Eilperin
Washington Post
June 26, 2018
https://www.washingtonpost.com/national/health-science/climate-change-is…
Pope Francis took the climate crisis to those who can fix it: oil and gas execs
By Veerabhadran Ramanathan, Daniel J. Misleh, and Daniel R. DiLeo
The Hill
June 19, 2018
http://thehill.com/opinion/energy-environment/392943-pope-francis-took-t…
Nearly 600 institutions back Catholic Climate Declaration
By Brian Roewe
National Catholic Reporter
June 18, 2018
https://www.ncronline.org/news/environment/nearly-600-institutions-back-…
An enormous workshop experience and reflection on Living Laudato Si'
By Luke Henkel
Ecojesuit
June 15, 2018
http://www.ecojesuit.com/an-enormous-workshop-experience-and-reflection-…
Pope urges oil companies to lead clean energy transition in unprecedented Vatican Conference
By Olivia Rosane
NationofChange
June 11, 2018
https://www.nationofchange.org/2018/06/11/pope-urges-oil-companies-to-le…
Audience of the Holy Father with the participants in the Symposium for Directors of the main companies in the oil and natural gas sector, and of other energy-related businesses
Holy See Press Office
June 9, 2018
http://press.vatican.va/content/salastampa/en/bollettino/pubblico/2018/06/09/180609b.html
Pope Francis tells oil bosses world must reduce fossil fuel use
The Guardian
June 9, 2018
https://www.theguardian.com/world/2018/jun/09/pope-francis-tells-oil-bos…
Pope Tells Oil Executives to Act on Climate: 'There Is No Time to Lose'
By Elisabetta Povoledo
New York Times
June 9, 2018
https://www.nytimes.com/2018/06/09/world/europe/pope-oil-executives-clim…
Ecological crisis caused by 'human interference'
By Filipe Domingues
Crux
June 8, 2018
https://cruxnow.com/interviews/2018/06/08/patriarch-bartholomew-ecologic…
Big oil to meet with Vatican officials, Pope Francis
By Brian Roewe and Joshua J. McElwee
National Catholic Reporter
June 5, 2018
https://www.ncronline.org/news/environment/big-oil-meet-vatican-official…
How faith, reason and environmental protection go hand in hand
By Veerabhadran Ramanathan
The Hill
May 25, 2018
http://thehill.com/opinion/energy-environment/389401-how-faith-reason-an…
Cardinal O'Malley leads group of religious leaders, scientists calling for climate action
By Danny McDonald
Boston Globe
May 24, 2018
https://www.bostonglobe.com/metro/2018/05/23/cardinal-malley-leads-group…
Wuerl brings 'Laudato Si' to life with unique cemetery project
By Christopher White
Crux
May 19, 2018
https://cruxnow.com/church-in-the-usa/2018/05/19/wuerl-brings-laudato-si…
Pope Francis brings a new lens to poverty, peace and the planet
By Robert W. McElroy
America: The Jesuit Review
April 23, 2018
https://www.americamagazine.org/faith/2018/04/23/pope-francis-brings-new…
Church teaching leads Catholic entities to divest from fossil fuels
By Dennis Sadowski
Crux
April 23, 2018
https://cruxnow.com/church-in-the-usa/2018/04/23/church-teaching-leads-c…
Access to clean water is a life issue that the church must defend
By Christiana Zenner
National Catholic Reporter
April 20, 2018
https://www.ncronline.org/news/environment/access-clean-water-life-issue…
'Laudato Si' universities' commit to forming environmental consciences
By George Rodriguez
National Catholic Reporter
April 19, 2018
https://www.ncronline.org/news/environment/laudato-si-universities-commi…
Latin American bishops call for 'ecological conversion'
By Barbara J. Fraser, Catholic News Service
National Catholic Reporter
March 23, 2018
https://www.ncronline.org/news/environment/latin-american-bishops-call-e…
Clifton Diocese: Laudato Si' inspiring reflection and action
By Clifton, Mary Colwell, and Ellen Teague
Independent Catholic News
March 11, 2018
https://www.indcatholicnews.com/news/34498
Pope chooses 2019 Synod of Bishops on Amazon theme, appoints council
By Carol Glatz, Catholic News Service
Crux
March 8, 2018
https://cruxnow.com/vatican/2018/03/08/pope-chooses-2019-synod-bishops-a…
New project to challenge Catholics to reduce carbon footprint, care more for environment
By Mark Bowling
Catholic Leader
February 27, 2018
http://catholicleader.com.au/news/new-project-challenge-catholics-reduce…
Pope's climate expert tells Nebraska audience: It's an issue in the laps of faith leaders
By Bill Kelly
NET News – Nebraska's PBS and NPR Stations
February 27, 2018
http://netnebraska.org/article/news/1117893/popes-climate-expert-tells-n…
Midlands Voices: Let's build consensus for action to promote climate stability
By Daniel R. DiLeo and Richard W. Miller
Omaha World Herald
February 22, 2018
http://www.omaha.com/opinion/plus/midlands-voices-let-s-build-consensus-…
Lord Williams: Environmental Crisis Toxic Expression of Humanity's Failures
By Catherine Pepinster
The Tablet
February 13, 2018
http://www.thetablet.co.uk/news/8554/lord-williams-environmental-crisis-…
Pope's message to Amazonia inspires hope, but will it bring action?
By Justin Catanoso
Mongabay
January 22, 2018
https://news.mongabay.com/2018/01/popes-message-to-amazonia-inspires-hop…
Pope brings environmental crusade to Peru's Amazon, citing 'defense of the earth'
By Lucien Chauvin
Washington Post
January 19, 2018
https://www.washingtonpost.com/world/the_americas/pope-brings-environmen…
Pope in Amazon urges seamless defense of life, earth and cultures
By Inés San Martín
Crux
January 19, 2018
https://cruxnow.com/pope-in-chile-and-peru/2018/01/19/pope-amazon-urges-…
Pope set to visit site of deforestation, indigenous struggle in Peru
By John Cannon
Mongabay
January 19, 2018
https://news.mongabay.com/2018/01/pope-set-to-visit-site-of-deforestatio…
From the Amazon, Francis decries policies that 'strangle' indigenous
By Joshua J. McElwee
National Catholic Reporter
January 19, 2018
https://www.ncronline.org/news/environment/amazon-francis-decries-polici…
Amid attacks on churches, Francis tells Chilean indigenous to shun violence
By Joshua J. McElwee
National Catholic Reporter
January 17, 2018
https://www.ncronline.org/news/world/amid-attacks-churches-francis-tells…
Pope to teachers: Help kids live with care for all of creation
By Carol Glatz, Catholic News Service
National Catholic Reporter
January 5, 2018
https://www.ncronline.org/news/environment/francis-chronicles/pope-teach…
The future of faith and science
By Ed Langlois
Catholic Sentinel
December 11, 2017
http://www.catholicsentinel.org/Content/Social/Social/Article/The-future…
Earth Charter and Laudato Si' book launch at Integral Ecology Symposium
By Alicia Jimenez
Earth Charter
December 7, 2017
http://earthcharter.org/news-post/earth-charter-laudato-si-book-launched…
Voices of the Earth Charter Initiative Responding to Encyclical Laudato Si'
Edited by Alicia Jiménez and Mirian Vilela
National Technical University of Costa Rica Press, 2017
http://fore.yale.edu/files/Laudato_Si_Earth_Charter.pdf
Pope sends videomessage to symposium on "Laudato si"
Vatican Radio
November 30, 2017
http://en.radiovaticana.va/news/2017/11/30/pope_sends_videomessage_to_sy…
International Symposium on Laudato sì Ecology: "Care for Our Common Home, a Necessary Conversion to Human Ecology"
San José, Costa Rica
November 29 – December 1, 2017
http://fore.yale.edu/calendar/item/care-for-our-common-home-a-necessary-…  
Thank God for Pope Francis: Historic Leadership for a Nuclear Weapons Free World
By Jonathan Granoff
Huffington Post
November 25, 2017
https://www.huffingtonpost.com/entry/thank-god-for-pope-francis-historic…
US Catholics join pope in press for more ambitious climate action at COP23
By Brian Roewe
National Catholic Reporter
November 16, 2017
https://www.ncronline.org/news/environment/us-catholics-join-pope-press-…
Global cooperation needed in response to climate change, pope says
By Carol Glatz
Catholic News Service
November 13, 2017
http://www.catholicnews.com/services/englishnews/2017/global-cooperation…
Pope denounces 'shortsighted' human activity for climate change
By Nicole Winfield
CTV News
November 11, 2017
http://www.ctvnews.ca/sci-tech/pope-denounces-shortsighted-human-activit…
From better bulbs to more trees, Italy's Assisi takes on climate change
By Alex Whiting
Reuters
November 5, 2017
https://www.reuters.com/article/us-italy-climatechange/from-better-bulbs…
Vatican's top diplomat: Water must be available to all, especially the poor
By Claire Giangravè
Cruz
October 24, 2017
https://cruxnow.com/global-church/2017/10/24/vaticans-top-diplomat-water…
'Civilize the market' for common good, care of creation, pope says
By Cindy Wooden
Crux
October 20, 2017
https://cruxnow.com/vatican/2017/10/20/civilize-market-common-good-care-…
Pope addresses "Religions for Peace"‎ delegation
Vatican Radio
October 18, 2017
http://en.radiovaticana.va/news/2017/10/18/pope_religions_for_peace/1343712
For Abandoning Climate Accord, Pope Swipes Trump on World Food Day
By Jessica Corbett
Common Dreams
October 16, 2017
https://www.commondreams.org/news/2017/10/16/abandoning-climate-accord-p…
"Notching a 'Victory' for our common home"
By Brian Fraga
Our Sunday Visitor Newsweekly
October 4, 2017
https://www.osv.com/OSVNewsweekly/National/Article/TabId/717/ArtMID/1362…
Catholic church to make record divestment from fossil fuels
By Arthur Neslen
The Guardian
October 3, 2017
https://www.theguardian.com/environment/2017/oct/03/catholic-church-to-m…
Assisi diocese among 40 Catholic groups to divest from fossil fuels
By Brian Roewe
National Catholic Reporter
October 3, 2017
https://www.ncronline.org/news/environment/assisi-diocese-among-40-catho…
Defend life, care for creation and give freely, pope says
Catholic News Service
The Catholic Spirit
October 2, 2017
http://thecatholicspirit.com/news/nation-and-world/defend-life-care-crea…
New tool to use Laudato Si' to measure, rank nations' development
By George Rodriguez, Catholic News Service
National Catholic Reporter
September 14, 2017
https://www.ncronline.org/news/environment/new-tool-use-laudato-si-measu…
Hurricane Irma: Pope Francis condemns climate change sceptics
BBC
September 11, 2017
http://www.bbc.com/news/world-us-canada-41231288
Pope and Orthodox Christian leader issue unprecedented appeal for the environment
By Christopher Lamb
Religion News Service
September 1, 2017
http://religionnews.com/2017/09/01/pope-and-orthodox-christian-leader-is…
Pope and Patriarch: A common declaration for a shared world
By Rev. Dr. John Chryssavgis
Crux
September 1, 2017
https://cruxnow.com/commentary/2017/09/01/pope-patriarch-common-declarat…
Pope Francis and Patriarch Bartholomew to issue joint environmental statement
Crux
August 30, 2017
https://cruxnow.com/vatican/2017/08/30/pope-francis-patriarch-bartholome…
Pope asks world leaders to listen to 'cry of the Earth'
By Associated Press
Washington Post
August 30, 2017
https://www.washingtonpost.com/national/religion/pope-asks-world-leaders…
Iowa's Catholic churches go solar to heed pope's call on climate change
By Kevin Hardy
Des Moines Register
August 21, 2017
http://www.desmoinesregister.com/story/news/2017/08/21/iowa-churches-inc…
Vatican shuts down fountains as Rome deals with drought
By Junno Arocho Esteves
Catholic News Service
July 25, 2017
http://www.catholicnews.com/services/englishnews/2017/vatican-shuts-down…
There goes the neighborhood
By Phyllis Zagano
National Catholic Reporter
July 22, 2017
https://www.ncronline.org/blogs/just-catholic/there-goes-neighborhood
'Laudato Si'' two years later: Parishes throughout diocese continue to answer pope's call to environmental stewardship
By Lisa Dahm
The Catholic Sun
June 18, 2017
http://www.catholicsun.org/2017/06/18/laudato-si-two-years-later/
'Laudato Si' ' Pledge seeks mass Catholic climate mobilization ahead of encyclical anniversary
By Brian Roewe
National Catholic Reporter
June 17, 2017
https://www.ncronline.org/blogs/eco-catholic/laudato-si-pledge-seeks-mas…
Growing Concern Over Climate Change Is Creating Interfaith Dialogue
By Justin Catanoso
Pacific Standard
June 13, 2017
https://psmag.com/social-justice/growing-concern-over-climate-change-is-…
Theologians blast Paris Agreement withdrawal, call for creation care
By Heidi Schlumpf
National Catholic Reporter
June 13, 2017
https://www.ncronline.org/news/theology/theologians-blast-paris-agreemen…
Pope Francis Gave President Trump a Copy of His Encyclical on Climate Change
By Katie Reilly
Time
May 24, 2017
http://time.com/4792296/pope-francis-donald-trump-climate-change-encycli…
Italian archdiocese, five religious orders to divest from fossil fuels
By Dennis Sadowski
Catholic News Service
May 10, 2017
https://www.ncronline.org/blogs/eco-catholic/italian-archdiocese-five-re…
Catholics bring Pope Francis' call to protect creation to climate march
By Dennis Sadowski
National Catholic Reporter
May 1, 2017
https://www.ncronline.org/blogs/eco-catholic/catholics-bring-pope-francis-call-protect-creation-climate-march
Detail University Seeks to Turn Pope Francis' Encyclical Message into a Climate Action Plan
By Liz Harman
University of San Diego News Center
April 18, 2017
http://www.sandiego.edu/news/detail.php?_focus=59289
Easter and the environment
Catholic Church Head Archbishop Peter Loy Chong
The Fiji Times
April 14, 2017
http://www.fijitimes.com/story.aspx?id=396701
St. Francis Alliance proclaims protection of all God's creatures
By Sharon Abercrombie
National Catholic Reporter
April 4, 2017
https://www.ncronline.org/blogs/eco-catholic/st-francis-alliance-proclai…
Father James Martin: Why is climate change a moral issue?
By James Martin, S.J.
America Magazine: The Jesuit Review
March 29, 2017
http://www.americamagazine.org/faith/2017/03/29/father-james-martin-why-…
Holy See calls for 'intergenerational solidarity' to deal with climate change
Independent Catholic News
March 25, 2017
http://www.indcatholicnews.com/news.php?viewStory=32207
Vatican investment conference explores clean energy 'for our common home'
By Marie Venner
National Catholic Reporter
March 14, 2017
https://www.ncronline.org/blogs/eco-catholic/vatican-investment-conferen…
Pope receives electric car, as studies for an all-renewables Vatican underway
By Brian Roewe
National Catholic Reporter
March 10, 2017
https://www.ncronline.org/blogs/eco-catholic/pope-receives-electric-car-…
Pope goes electric, sets example for world leaders
By Julia Travers
NationofChange
March 3, 2017
http://www.nationofchange.org/2017/03/03/pope-goes-electric-sets-example…
'Great world war for water' may be looming, Pope Francis says
RT
February 25, 2017
https://www.rt.com/news/378581-pope-francis-water-war/
Pope says indigenous people must have final say about their land
By David Hill
The Guardian
February 20, 2017
https://www.theguardian.com/environment/andes-to-the-amazon/2017/feb/20/…
Pope Francis to activists: Stand with migrants, do not deny climate science, there is no such thing as 'Islamic terrorism'
By Michael J. O'Loughlin
America: The Jesuit Review
February 17, 2017
http://www.americamagazine.org/politics-society/2017/02/17/pope-francis-…
The Lasting Effects of Pope Francis' Climate Change Edict
By Tom Jacobs
Pacific Standard
February 2, 2017
https://psmag.com/the-lasting-effects-of-pope-francis-climate-change-edi…
American sisters tackling climate care resolve to stay the course
By Elizabeth Eisenstadt Evans
Global Sisters Report
January 19, 2017
http://globalsistersreport.org/news/environment/american-sisters-tacklin…
Face to face with Pope Francis: A reminder of why we must fight inequality and injustice everywhere
By Fred Krupp
Environmental Defense Fund
January 10, 2017
https://www.edf.org/blog/2017/01/10/face-face-pope-francis-reminder-why-…
 
Vermont diocese to celebrate Year of Creation in 2017
By Cori Fugere Urban
Catholic News Service
December 27, 2016
https://www.ncronline.org/blogs/eco-catholic/vermont-diocese-celebrate-y…
Pope Francis, the Interfaith Movement and Global Environmental Ethics
By Kusumita P. Pedersen
Interreligious Insight: A journal of dialogue and engagement
Vol. 14, no. 2, pp. 62-73.
December 2016
http://fore.yale.edu/files/Pedersen_Pope_Francis.pdf
Pope Francis: "Never been such a clear need for science" to protect the planet
By Brady Dennis
Washington Post
November 29, 2016
https://www.washingtonpost.com/news/energy-environment/wp/2016/11/29/pop…
A Mission to Map
By Molly Burhans, GoodLands' executive director
GoodLand Project, 2016
https://issuu.com/burhansm/docs/a_mission_to_map_-_goodland_updates
When it comes to the environment, it is in giving that countries will receive
By Tomás Insua
Huffington Post
October 4, 2016
http://www.huffingtonpost.com/tomas-insua/when-it-comes-to-the-envi_b_12…
Catholic institutions internationally announce divestment from fossil fuels
Independent Catholic News
October 3, 2016
http://www.indcatholicnews.com/news.php?viewStory=31050
Monterey, Calif., diocese enters 'new era' with sustainable energy program
By Marie Venner
National Catholic Reporter
October 3, 2016
https://www.ncronline.org/blogs/eco-catholic/monterey-calif-diocese-ente…
Caring for creation - central to Pope Francis' papacy
By Tony Magliano
Catholic Online
September 8, 2016
http://www.catholic.org/news/hf/faith/story.php?id=70767
Catholics are obligated to care for the planet, just like care for the sick, Pope Francis says
By Julie Zauzmer
Washington Post
September 1, 2016
https://www.washingtonpost.com/news/acts-of-faith/wp/2016/09/01/pope-fra…
Season of Creation marks month of eco-contemplation for Christians
By Brian Roewe
National Catholic Reporter
September 1, 2016
https://www.ncronline.org/blogs/eco-catholic/season-creation-marks-month…
Deeming Pollution of Earth Sinful, Pope Proposes Climate Action as Sacred Duty
By Nika Knight
Common Dreams
September 1, 2016
http://www.commondreams.org/news/2016/09/01/deeming-pollution-earth-sinf…
Integrating Ecology and Justice: The Papal Encyclical
By Mary Evelyn Tucker and John Grim
The Quarterly Review of Biology (Vol. 91, No. 3): 261-270
September 2016
http://fore.yale.edu/files/Integrating_Ecology_and_Justice.pdf
When Protest Becomes Sacrament: Grady Sisters Heed a Higher Call
By Nicholas Kusnetz
Inside Climate News
August 10, 2016
https://insideclimatenews.org/news/09082016/new-york-fracking-ban-we-are…
Top 10 messages of 'Laudato Si'"
By Father James Martin, SJ
Catholic San Francisco
August 9, 2016
http://www.catholic-sf.org/ns.php?newsid=22&id=64520
Prayer for a planet: Pope Francis and the politics of climate change
By Bill Blaikie
iPolitics
August 4, 2016
http://ipolitics.ca/2016/08/04/prayer-for-a-planet-pope-francis-and-the-…
Youth Urge Pope to Push Harder for Divestment
By Ruth McCambridge
Nonprofit Quarterly
August 1, 2016
https://nonprofitquarterly.org/2016/08/01/youth-urge-pope-push-harder-di…
Liberation Ecology: Interview with Leonardo Boff
Great Transition Initiative
August 2016
http://www.greattransition.org/publication/liberation-ecology
A successful provocation for a pluralistic global society
The encyclical Laudato Si' – A Magna Carta of integral ecology as a reaction to humanity's self-destructive course
By Christoph Bals
Germanwatch
August 2016
https://germanwatch.org/sites/germanwatch.org/files/publication/16099.pdf
Vatican Gardens' gruesome past grows into green haven
By Carol Glatz
Catholic News Service
July 30, 2016
https://www.ncronline.org/blogs/eco-catholic/marshy-manicured-vatican-ga…
Living Green
By Kathryn McKenzie
Santa Cruz Sentinel
July 28, 2016
http://www.santacruzsentinel.com/environment-and-nature/20160728/living-…
'Social Love' as a Vision for Environmental Law: Laudato Si' and the Rule of Law
By Lucia Ann Silecchia
10 Liberty University Law Review 371
July 23, 2016
http://ssrn.com/abstract=2813256
Laudato Si' and the liturgical work ahead
By James Hug
National Catholic Reporter
July 19, 2016
https://www.ncronline.org/blogs/eco-catholic/laudato-si-and-liturgical-w…
Here's A Look At How Catholic Churches Are Taking Pope Francis' Climate Encyclical To Heart
By Sydney Pereira
Think Progress
July 11, 2016
https://thinkprogress.org/heres-a-look-at-how-catholic-churches-are-taki…
Laudato Si' and Care for Our Common Home: What Does it Mean for the Legal Professional?
By Lucia Ann Silecchia
6 Seattle J. of Envtl. L. 1 (2016); CUA Columbus School of Law Legal Studies Research Paper No. 2016-6.
July 8, 2016
http://ssrn.com/abstract=2806258
Church to faithful: Take Pope's encyclical seriously
By William B. Depasupil
Manila Times
July 6, 2016
http://www.manilatimes.net/church-to-faithful-take-popes-encyclical-seri…
Sisters change lives for waste pickers of central India
By Saji Thomas
Global Sisters Report
June 27, 2016
http://globalsistersreport.org/news/ministry/sisters-change-lives-waste-…
Baltimore archbishop: Addressing climate change is a 'moral imperative'
By William E. Lori
The Baltimore Sun
June 26, 2016
http://www.baltimoresun.com/news/opinion/oped/bs-ed-encyclical-anniversa…
One year later, how a Pope's message on climate has resonated
By Cristina Maza
Christian Science Monitor
June 24, 2016
http://www.csmonitor.com/Environment/2016/0624/One-year-later-how-a-Pope…
Sisters' school stands out in Guatemalan dump town
By J. Malcolm Garcia
Global Sisters Report
June 20, 2016
http://globalsistersreport.org/news/ministry/sisters-school-stands-out-g…
Laudato Si': Putting faith on the frontline of the climate justice fight
By Jennifer Butler and Aaron Mair
National Catholic Reporter
June 16, 2016
http://ncronline.org/blogs/eco-catholic/laudato-si-putting-faith-frontli…
Year-old Laudato Si' has stirred up action for Earth
By Brian Roewe
National Catholic Reporter
June 16, 2016
http://ncronline.org/blogs/eco-catholic/encyclical-boost-year-old-laudat…
Laudato Si' Week renews awareness ahead of encyclical anniversary
By Brian Roewe
National Catholic Reporter
June 14, 2016
http://ncronline.org/blogs/eco-catholic/laudato-si-week-renews-awareness…
How Pope Francis inspired a Thailand parish to plant 800 trees
Herald Malaysia Online
June 9, 2016
http://www.heraldmalaysia.com/news/how-pope-francis-inspired-a-thailand-…
Pope thanks Jains for commitment to care for environment
Independent Catholic News
June 1, 2016
http://www.indcatholicnews.com/news.php?viewStory=30197
Priest promotes care for earth
By Jennifer Burke
Catholic Courier
May 31, 2016
https://catholiccourier.com/articles/priest-promotes-care-for-earth
5 Huge Climate Success Stories 10 Years After the Release of Al Gore's 'An Inconvenient Truth'
The Climate Reality Project
EcoWatch
May 24, 2016
https://ecowatch.com/2016/05/24/al-gore-inconvenient-truth/
Laudato Si' turns one year old: Time for action
By Michael Sean Winters
National Catholic Reporter
May 24, 2016
http://ncronline.org/blogs/distinctly-catholic/laudato-si-turns-one-year…
Pursuit of integral ecology
By Marcelo Sánchez Sorondo and Veerabhadran Ramanathan
Science
Vol. 352, Issue 6287, pp. 747
May 13, 2016
http://science.sciencemag.org/content/352/6287/747.full
Catholic social teachings call to the dignity of creation
By Denis M. Hughes and Brian Jordan
National Catholic Reporter
May 13, 2016
http://www.ncronline.org/news/peace-justice/catholic-social-teachings-ca…
Mining and extraction coalition at UN holds countries, companies accountable
By Chris Herlinger
Global Sisters Report
May 9, 2016
http://globalsistersreport.org/news/environment/mining-and-extraction-co…
Catholics and Buddhists should work together for the environment
Vatican Radio
May 6, 2016
http://en.radiovaticana.va/news/2016/05/06/catholics_and_buddhists_toget…
Confronting climate change is our moral obligation
By Most Reverend Oscar Cantú and Most Reverend Broderick Pabillo
The Hill
April 27, 2016
http://thehill.com/blogs/congress-blog/energy-environment/277829-confron…
Zambia's Catholic Bishops call for action on environment
Vatican Radio
April 27, 2016
http://en.radiovaticana.va/news/2016/04/27/zambia%E2%80%99s_catholic_bis…
On Earth Day, Pope Francis calls all 'to see the world through the eyes of God the Creator'
By Brian Roewe
National Catholic Reporter
April 22, 2016
http://ncronline.org/blogs/eco-catholic/earth-day-pope-francis-calls-all…
Catholics join Earth Day effort to plant 7.8 billion trees
By Brian Roewe
National Catholic Reporter
April 22, 2016
http://ncronline.org/blogs/eco-catholic/catholics-join-earth-day-effort-…
Pope Francis' Laudato Si': Hope for our Common Home
By Denis Edwards
MN News
April 6, 2016
http://mnnews.today/aurora/april-2016/9237-pope-francis-laudato-si-hope-for-our-common-home/
For the Planet and the Poor
Keough School of Global Affairs, University of Notre Dame
April 4, 2016
http://keough.nd.edu/news-events/for-the-planet-and-the-poor/
Atlanta diocese and Catholic scientists in Georgia develop Laudato Si' Action Plan, addressing "the civil rights issue of our time"
The Global Catholic Climate Movement
Press Release
April 2016
https://catholicclimatemovement.global/atlanta-diocese-and-catholic-scie…
The Environmentalist Monk Who Inspired Pope Francis
By Nick Fouriezos
OZY
March 30, 2016
http://www.ozy.com/flashback/the-environmentalist-monk-who-inspired-pope…
My Lent with Pulse Pledge
By Julie Hall, Youth Speak News
The Catholic Register
March 24, 2016
http://www.catholicregister.org/item/22000-my-lent-with-pulse-pledge
Sri Lankan Way of the Cross carries environmental message
ucanews.com reporter
UCA News
March 24, 2016
http://www.ucanews.com/news/sri-lankan-way-of-the-cross-carries-environm…
C'mon, get happy: Denmark leads in latest global happiness index
By Brian Roewe
National Catholic Reporter
March 21, 2016
http://ncronline.org/blogs/eco-catholic/c-mon-get-happy-denmark-leads-la…
Vatican to undertake ecological initiatives during Easter season
By Junno Arocho Esteves
Catholic News Service
National Catholic Reporter
March 18, 2016
http://ncronline.org/blogs/eco-catholic/vatican-undertake-ecological-ini…
A Moral Call to Earth Care
Center for Humans and Nature
2016
http://www.humansandnature.org/a-moral-call-to-earth-care
A Martyr of 'Laudato Si'? The indigenous spirituality of assassinated activist Berta Cáceres
By Betsy Shirley
Sojourners
March 18, 2016
https://sojo.net/articles/martyr-laudato-si
Eco-theologian Fr. Sean McDonagh: Don't let this 'Laudato Si" moment pass
By Brian Roewe
National Catholic Reporter
March 9, 2016
http://ncronline.org/blogs/eco-catholic/eco-theologian-fr-sean-mcdonagh-…
Cardinal Turkson addresses GR 2030 on Catholic social teaching, integral ecology, sustainable development
Independent Catholic News
March 6, 2016
http://www.indcatholicnews.com/news.php?viewStory=29576
At Catholic Worker house, Sr. Elizabeth Johnson explores human kinship with God's creation
By Beth Griffin
National Catholic Reporter
February 29, 2016
http://ncronline.org/blogs/eco-catholic/catholic-worker-house-sr-elizabe…
Pope Francis should win this year's Nobel Peace Prize
By Robert Christian
National Catholic Reporter
February 26, 2016
http://ncronline.org/blogs/distinctly-catholic/pope-francis-should-win-y…
On climate issue, Catholics urged to 'feel pain of the planet, the poor'
By Tom Tracy
Catholic News Service
February 24, 2016
http://www.catholicnews.com/services/englishnews/2016/on-climate-issue-c…
Cardinal Turkson speaks on environment, Laudato Si'
Vatican Radio
February 17, 2016
http://en.radiovaticana.va/news/2016/02/17/cardinal_turkson_speaks_on_en…
Mexican Farmers Praise Pope Francis for Continued Advocacy of Environmental Protection and Climate Change Reform
By Karen Lo
The Daily Meal
February 16, 2016
http://www.thedailymeal.com/eat/mexican-farmers-praise-pope-francis-cont…
Climate Change And Environmental Justice
By Charlie Shelton & Frank Stasio
WUNC – North Carolina Public Radio
February 16, 2016
http://wunc.org/post/climate-change-and-environmental-justice#stream/0
What these Christians are giving up for Lent: Fossil fuels
By Chelsea Harvey
Washington Post
February 10, 2016
https://www.washingtonpost.com/news/energy-environment/wp/2016/02/10/wha…
Why climate change is really, really unfair
By Chris Mooney
Washington Post
February 5, 2016
https://www.washingtonpost.com/news/energy-environment/wp/2016/02/05/why…
In February prayer video, Pope Francis pleads for creation care, 'a new way of living'
By Brian Roewe
National Catholic Reporter
February 5, 2016
http://ncronline.org/blogs/eco-catholic/february-prayer-video-pope-franc…
US Catholics allergic to reality of environmental racism, theologian says at St. John's University
By Peter Feuerherd
National Catholic Reporter
February 2, 2016
http://ncronline.org/blogs/eco-catholic/us-catholics-allergic-reality-en…
Laudato Si and Renewing Creation at the Earth Summit
By Kristen Hannum
Catholic Sentinel
January 31, 2016
http://www.catholicsentinel.org/main.asp?SectionID=2&SubSectionID=35&Art…
The Morality of Market Mechanisms
By Lucia Ann Silecchia, Leslie Carothers, Bob Perciasepe, and Caroline Farrell
Environmental Law Reporter, Vol. 46, Pp. 10006 (I-2016); CUA Columbus School of Law Legal Studies Research Paper No. 2016-2.
January 29, 2016
http://ssrn.com/abstract=2723996
EPA recruits faith groups to help end food waste
By Brian Roewe
National Catholic Reporter
January 26, 2016
http://ncronline.org/blogs/eco-catholic/epa-recruits-faith-groups-help-e…
On Moral Grounds
By Maya Chandra
Yale Daily News
January 22, 2016
http://yaledailynews.com/blog/2016/01/22/on-moral-grounds/
The moral dimension of climate change—and of courage to address it
World Council of Churches
January 15, 2016
http://www.oikoumene.org/en/press-centre/news/the-moral-dimension-of-cli…
Cardinal Turkson: Laudato si' continues to be relevant
Vatican Radio
January 15, 2016
http://en.radiovaticana.va/news/2016/01/15/cardinal_turkson_laudato_si_c…
Pope Francis' Call for Action – One Key to Global Climate Agreement
By Oscar Cantú
Morning Consult
January 14, 2016
http://morningconsult.com/opinions/pope-francis-call-for-action-one-key-…
Religion and Climate Change
By Lloyd Steffen
Huffington Post
January 13, 2016
http://www.huffingtonpost.com/lloyd-steffen/religion-and-climate-change_…
Pope inspires clergy to join environmental movement
By T.J. Pignataro
The Buffalo News
January 9, 2016
https://buffalonews.com/2016/01/09/pope-inspires-clergy-to-join-environmental-movement/
Pope Francis was right on climate change
By John Nagle
Washington Post
January 7, 2016
https://www.washingtonpost.com/news/in-theory/wp/2016/01/07/pope-francis…
Religious leaders commit to environmental protection in Vietnam
By Joachim Pham
Global Sisters Report
January 4, 2016
http://globalsistersreport.org/news/environment/religious-leaders-commit…
Time for leaders to make moral choice on climate change
By Russell L. Meyer
Palm Beach Post
January 2, 2016
http://www.palmbeachpost.com/news/news/opinion/commentary-time-for-leade…
The Rabbi Who Became an Environment Minister and Calls the Pope His 'Rav'
By Cecilia Blasbalg
Haaretz Daily Newspaper
December 29, 2015
http://www.haaretz.com/jewish/features/.premium-1.694366
A young Catholic from Kenya reflects on the Pope's African visit
By Allen Ottaro
The Catholic World Report
December 28, 2015
http://www.catholicworldreport.com/Blog/4466/a_young_catholic_from_kenya…
The ecological justice work of the Franciscan Sisters of Mary at West Lake landfill — and beyond
By Kelly Moffitt
St. Louis Public Radio
December 22, 2015
http://news.stlpublicradio.org/post/ecological-justice-work-franciscan-s…
Praise and plaudits from the best of COP21
By Donna Schaper
National Catholic Reporter
December 22, 2015
http://ncronline.org/blogs/eco-catholic/praise-and-plaudits-best-cop21
On care for our common home
By Phyllis Zagano
National Catholic Reporter
December 16, 2015
http://ncronline.org/blogs/just-catholic/care-our-common-home
WCC leader says faith groups must follow up on climate deal
Vatican Radio
December 16, 2015
http://en.radiovaticana.va/news/2015/12/16/wcc_leader_says_faith_groups_…
Scientists enlist the big gun to get climate action: Faith
By Seth Borenstein, Associated Press
The Daily Mail
December 6, 2015
http://www.dailymail.co.uk/wires/ap/article-3348252/Scientists-enlist-bi…
What does your faith say about how we treat the environment?
By Kelsey Dallas
Deseret News National
December 1, 2015
https://www.deseret.com/2015/12/1/20577869/what-does-your-faith-say-about-how-we-treat-the-environment
Integrating Ecology and Justice: The New Papal Encyclical
By Mary Evelyn Tucker and John Grim
Solutions
Volume 6, Issue 4, pp. 38-43
November 28, 2015
http://thesolutionsjournal.com/node/237383
Catholics waking up to perils of climate change
By Michael Swan
The Catholic Register
November 22, 2015
http://www.catholicregister.org/home/international/item/21314-catholics-…
Taking Pope Francis to the classroom
By Cathal Barry
Irish Catholic
November 19, 2015
http://www.irishcatholic.ie/article/taking-pope-francis-classroom
Catholic Multicultural Center puts pope's encyclical into action
By Laura Green
Catholic Herald
November 19, 2015
http://www.madisoncatholicherald.org/news/around-diocese/6015-cmc.html
Christians set out on climate 'pilgrimage' from London to Paris
By Emma Howard
The Guardian
November 13, 2015
http://www.theguardian.com/environment/2015/nov/13/christians-set-out-on…
Concern for Earth must be priority, cardinal from Ghana tells central Ohioans
By JoAnne Viviano
The Columbus Dispatch
November 3, 2015
http://www.dispatch.com/content/stories/local/2015/11/02/Cardinal-takes-…
The Francis Effect: How Pope Francis changed the conversation about global warming
By the Yale Program on Climate Change Communication and the George Mason University Center for Climate Change Communication
November 2015
http://environment.yale.edu/climate-communication/files/The_Francis_Effe…
The Francis Effect
Yale Project on Climate Change Communication
November 2015
http://environment.yale.edu/climate-communication/article/the-francis-ef…
The Blessing of the Bikes
Yale Climate Connections
October 27, 2015
http://www.yaleclimateconnections.org/2015/10/the-blessing-of-the-bikes/
World's bishops appeal to COP 21 delegates for 'just and legally binding' climate deal
By Brian Roewe
National Catholic Reporter
October 26, 2015
http://ncronline.org/blogs/eco-catholic/worlds-bishops-appeal-cop-21-del…
Catholic Church Leaders Issue Appeal on Climate Change
By Elisabetta Povoledo
New York Times
October 26, 2015
http://www.nytimes.com/2015/10/27/world/europe/catholic-church-leaders-i…
Jane Goodall at Parliament: Pope Francis gives me hope on environment
By Anne Marie Hankins
Religion News Service
October 19, 2015
http://www.religionnews.com/2015/10/19/jane-goodall-parliament-pope-fran…
Can the pope bridge the climate divide?
By Elizabeth Shogren
High Country News
October 12, 2015
https://www.hcn.org/issues/47.17/can-the-pope-bridge-the-climate-divide
Laudato Si' panel event encourages hope amidst ecological challenges
By Andrea Simmonds and C. Mark Batten
Wake Forest University
October 8, 2015
http://divinity.wfu.edu/2015/10/laudato-si-panel-event-encourages-hope-a…
How Pope Francis helped awaken a deep religious tradition for care for the environment
By Mark Stoll
Huffington Post
September 25, 2015
https://www.washingtonpost.com/news/acts-of-faith/wp/2015/09/24/how-pope…
Faith in clean energy
By Tom Steyer and Sister Simone Campbell
The Hill
September 24, 2015
http://thehill.com/blogs/congress-blog/energy-environment/254683-faith-i…
Pope Francis on Climate Change: Some Questions
By Roger S. Gottlieb
Huffington Post
September 24, 2015
http://www.huffingtonpost.com/roger-s-gottlieb/pope-francis-on-climate-c…
Laudato Si' Reflection Resource is here!
By Terri MacKenzie, SHCJ
Ecospirituality Resources
September 22, 2015
http://ecospiritualityresources.com/2015/09/22/
The Lutheran Study Guide to Pope Francis' letter on climate change is now available!
Hudson Valley Cooperative: A Food, Faith, and Community Project
September 2015
https://fore.yale.edu/files/lutheran_climate_change_study.pdf
Rabbis Honor Pope's Climate Message With Yom Kippur Service In DC
By Antonia Blumberg
Huffington Post
September 22, 2015
http://www.huffingtonpost.com/entry/rabbis-honor-popes-climate-message-w…
Yom Kippur at the Lincoln Memorial
Washington Peace Center
September 21, 2015
http://washingtonpeacecenter.org/node/15813
Amid pope's visit, Jews are incorporating his teachings into Yom Kippur traditions
By Perry Stein
Washington Post
September 18, 2015
https://www.washingtonpost.com/news/acts-of-faith/wp/2015/09/18/amid-pop…
The Pope: Not just for Catholics anymore
By Jessica Ravitz
CNN
September 15, 2015
http://www.cnn.com/2015/09/13/us/pope-francis-non-catholic-flock/
What Pope Francis Should Say In His Upcoming UN Address
Yale Environment 360
September 15, 2015
http://e360.yale.edu/feature/what_pope_francis_should_say_in_his_upcomin…
A Lot of American Catholics Have Never Heard of Pope Francis' Most Important New Message
But his visit to the United States could change all that.
By James West
Mother Jones
September 1, 2015
http://www.motherjones.com/environment/2015/08/pope-francis-climate-amer…
Obama to seek unity with Pope Francis on many issues
The Indian Panorama
August 28, 2015
http://www.theindianpanorama.com/united-states-america/us-news/obama-to-…
Why Social Conditions Matter to the Pope
By Grace Ji-Sun Kim and Rev. Jesse Jackson
Huffington Post
August 27, 2015
http://www.huffingtonpost.com/grace-jisun-kim/why-social-conditions-mat_…
The Islamic Climate Change Declaration Could Be More Effective Than Pope Francis's Encyclical
By Emma Foehringer Merchant
New Republic
August 19, 2015
http://www.newrepublic.com/article/122575/islamic-climate-change-declara…
The Pope and the Planet
By Bill McKibben
New York Review of Books
August 13, 2015
http://www.nybooks.com/articles/archives/2015/aug/13/pope-and-planet/
Pope Francis' Appeal for the Future
By Daniel C. Maguire
Consortium News
August 12, 2015
https://consortiumnews.com/2015/08/12/pope-francis-appeal-for-the-future/
The Peronist Roots of Pope Francis' Politic
By Uki Goñi
New York Times
August 12, 2015
http://www.nytimes.com/2015/08/13/opinion/uki-goni-peronist-roots-of-pop…
Pope Francis announces World Day of Prayer for the Care of Creation
Vatican Radio
August 10, 2015
http://www.news.va/en/news/pope-francis-announces-world-day-of-prayer-fo…
Theologian Leonardo Boff compares the Earth Charter and the Pope's Encyclical
Earth Charter International
August 4, 2015
http://www.earthcharterinaction.org/content/articles/1171/1/Theologian-L…
Among Republicans, Catholics More Likely to Believe that Global Warming is Happening and Support Policies to Reduce It
By Yale Project on Climate Change Communication
Yale School of Forestry & Environmental Studies
Summer 2015
http://environment.yale.edu/climate-communication/article/republican-cat…
Integrating Ecology and Justice: The New Papal Encyclical
By Mary Evelyn Tucker and John Grim
Solutions
July-August 2015
http://fore.yale.edu/files/Tucker_Grim_Integrating_Ecology_and_Justice.pdf
Praise Be!
By Rachel Findley and Shelley Tanenbaum
BeFriending Creation, Newsletter of Quaker Earthcare Witness
July-August 2015
http://www.quakerearthcare.org/sites/quakerearthcare.org/files/bfc/bfc28…
Pope Francis on Animal Liberation
By Jane Gray Morrison and Michael Charles Tobias
Millennium Alliance for Humanity and Biosphere
July 28, 2015
http://mahb.stanford.edu/blog/pope-francis-on-animal-liberation/
Pope is not alone as people of faith take up environmental cause
By Mary Evelyn Tucker
South China Morning Post
July 19, 2015
http://www.scmp.com/comment/insight-opinion/article/1840918/pope-not-alo…
The system is intolerable: the change we need is in our hands
By Pope Francis
The Ecologist
July 18, 2015
http://www.theecologist.org/blogs_and_comments/commentators/2949432/the_…
The Emerging Phenomenon Of Religious Environmentalism
By Mary Evelyn Tucker
Outlook
July 15, 2015
http://www.outlookindia.com/article/the-emerging-phenomenon-of-religious…
Our Common Home: Climate Change Brings Moral Change
By Mary Evelyn Tucker
YaleGlobal
July 14, 2015
http://yaleglobal.yale.edu/content/our-common-home-climate-change-brings…
A Radical Vatican?
By Naomi Klein
The New Yorker
July 10, 2015
http://www.newyorker.com/news/news-desk/a-visit-to-the-vatican
An Ode To Climate Trolls (interview with Mary Evelyn Tucker)
Green Majority Radio
July 10, 2015
https://greenmajoritymedia.wordpress.com/2015/07/10/459-an-ode-to-climat…
In Bolivia, Pope Francis Apologizes for Church's 'Grave Sins'
By Jim Yardley and William Neuman
New York Times
July 9, 2015
http://www.nytimes.com/2015/07/10/world/americas/pope-francis-bolivia-ca…
From Pope Francis to Green Muslims, faith groups steadfast in push for clean energy
By Kari Lydersen
Midwest Energy News
July 9, 2015
http://midwestenergynews.com/2015/07/09/from-pope-francis-to-green-musli…
Pope Francis, in Ecuador, Calls for More Protection of Rain Forest and Its People
By Jim Yardley
New York Times
July 7, 2015
http://www.nytimes.com/2015/07/08/world/americas/pope-francis-in-ecuador…
Laudato Si' - A story of right relationships
By Patricia Siemen
Global Sisters Report – Capital E: Earth
July 7, 2015
http://globalsistersreport.org/column/capital-e-earth/environment/laudat…
Encyclical Climate Action Kit
Catholic Climate Covenant and Interfaith Power & Light
July 7, 2015
http://salsa4.salsalabs.com/o/50836/p/dia/action3/common/public/?action_…
Papal encyclical calls for renewed cooperation of science and ethics
By Mary Evelyn Tucker
Ecological Society of America
July 6, 2015
http://www.esa.org/esablog/guest-posts/papal-encyclical-calls-for-renewe…
An Eastern Orthodox Perspective on Laudato Si: A Personal Response, An Ecumenical Reflection
By John Chryssavgis
First Things
July 6, 2015
http://www.firstthings.com/blogs/firstthoughts/2015/07/pope-franciss-lau…
8 Ways Pope Francis Is Changing the Direction of the Catholic Church
New York Times
July 6, 2015
http://www.nytimes.com/interactive/2015/06/13/world/europe/francis-the-a…
A Revolutionary Pope Calls for Rethinking the Outdated Criteria That Rule the World
By Ellen Brown
Common Dreams
July 6, 2015
http://www.commondreams.org/views/2015/07/04/revolutionary-pope-calls-re…
Shifting the Climate Debate Onto Sacred Ground
By Llewellyn Vaughan-Lee
Huffington Post
July 2, 2015
http://www.huffingtonpost.com/llewellyn-vaughanlee/shifting-the-climate-…
Pope Francis' LAUDATO SI and the New Consciousness
By Mike Bell
Deep Time Journey
July 1, 2015
http://www.deeptimejourney.org/resource/pope-francis-laudato-si-and-the-…
Laudato Si': A political reading
By Robert Manne
The Monthly
July 1, 2015
http://www.themonthly.com.au/blog/robert-manne/2015/01/2015/1435708320/l…
People and planet first: the imperative to change course
Vatican Information Service
July 1, 2015
http://visnews-en.blogspot.com/2015/07/people-and-planet-first-imperativ…
Pope Francis' Encyclical Climate Action Kit
By Interfaith Power & Light and Catholic Climate Covenant
July 2015
http://www.interfaithpowerandlight.org/resources/pope-francis-encyclical…
 
Clergy and People of Faith Arrested in Civil Disobedience Blockade at Crestwood Midstream
By Sandra Steingraber
We Are Seneca Lake
June 30, 2015
http://www.wearesenecalake.com/faith-arrests/
The Earth Charter in 2015
Address by Steven C. Rockefeller
Earth Charter+15
June 29, 2015
http://www.earthchartervrienden.org/wp-content/uploads/2015/08/The-Earth…
What 'Laudato Si' Means for Malawi
By Alex Muyebe, S.J., and Peter Henriot, S.J.
Irish Missionary Union
June 29, 2015
http://www.imu.ie/what-laudato-si-means-for-malawi/
ESA commends Pope Francis for encyclical on the environment
By Monica G. Turner, David W. Inouye, and Jill S. Baron
Ecological Society of America
June 29, 2015
http://www.esa.org/esablog/ecology-in-the-news/esa-commends-pope-francis…
Pope Francis's environmental message brings thousands on to streets in Rome
By Rosie Scammell
The Guardian
June 28, 2015
http://www.theguardian.com/world/2015/jun/28/pope-francis-environment-ro…
Climate Marchers Gather to Show Rousing Support for Pope
By Elisabetta Povoledo
New York Times
June 28, 2015
http://www.nytimes.com/2015/06/29/world/europe/climate-marchers-gather-t…
Dalai Lama tells Glastonbury of the need to speak out on climate change
By Hannah Ellis-Petersen and Josh Halliday
June 28, 2015
The Guardian
http://www.theguardian.com/music/2015/jun/28/dalai-lama-glastonbury-verd…
The Pope's Ecological Vow
By Paul Vallely
New York Times
June 28, 2015
http://www.nytimes.com/2015/06/29/opinion/the-popes-ecological-vow.html
Love Conquers Hate, Amazing Grace
By Dana Beach
Coastal Conservation League
June 27, 2015
http://fore.yale.edu/news/item/love-conquers-hate-amazing-grace/
Mary Evelyn Tucker: Climate Change Brings Moral Change
Earth Charter International
June 25, 2015
http://www.earthcharterinaction.org/content/articles/1157/1/Mary-Evelyn-…
Steven Rockefeller on Laudato Si' and the Earth Charter
Earth Charter International
June 25, 2015
http://www.earthcharterinaction.org/content/articles/1161/1/Steven-Rocke…
Elizabeth May: Why Pope Francis's statement is important
Earth Charter International
June 24, 2015
http://www.earthcharterinaction.org/content/articles/1152/1/Elizabeth-Ma…
Religions for Peace New Faiths for Earth Campaign
Religions for Peace International
June 24, 2015
https://www.youtube.com/watch?v=E_3EuybS9Mk
Next Steps: After Pope Francis
Catholic Climate Covenant
June 25, 2015
http://fore.yale.edu/news/item/next-steps-after-pope-francis/
The Encyclical Laudato Si' and the Earth Charter
Earth Charter International
June 25, 2015
http://www.earthcharterinaction.org/content/articles/1148/1/The-Encyclic…
Rabbi Awraham Soetendorp comments on the Pope's Encyclical
Earth Charter International
June 25, 2015
http://www.earthcharterinaction.org/content/articles/1159/1/Rabbi-Awraha…
Laudato Si': An encyclical of re-membering
By Margaret Galiardi
Global Sisters Report – Capital E: Earth
June 24, 2015
http://globalsistersreport.org/column/capital-e-earth/environment/laudat…
Thoughts on Pope Francis' Laudato Si
By Herman Daly
Center for the Advancement of the Steady State Economy
June 23, 2015
http://www.steadystate.org/thoughts-on-pope-francis-laudato-si/
Don't go back to sleep
By Joan Brown
Global Sisters Report – Capital E: Earth
June 23, 2015
http://globalsistersreport.org/column/capital-e-earth/environment/don%E2…
Laudato Si' – Becoming Painfully Aware
By Chris Crews
State of Formation
June 23, 2015
http://www.stateofformation.org/2015/06/laudato-si-becoming-painfully-aw…
Laudato Si' — The Ecological Ethics and Systemic Thought of Pope Francis
By Fritjof Capra
FritjofCapra.net
June 22, 2015
http://www.fritjofcapra.net/laudato-si-the-ecological-ethics-and-systemi…
Ruud Lubbers comment on Laudato Si'
By Ruud Lubbers
Earth Charter International
June 22, 2015
http://www.earthcharterinaction.org/content/articles/1156/1/Ruud-Lubbers-comment-on-Laudato-Si/Page1.html
Pope Francis's important ecology lesson
By Stephen Bede Scharper
Toronto Star
June 21, 2015
http://www.thestar.com/opinion/commentary/2015/06/21/pope-franciss-impor…
The pope's effect on politics
By Barrie Dunsmore
Rutland Herald
June 21, 2015
http://www.rutlandherald.com/article/20150621/OPINION06/706219971
Tell Us How Your Church Addressed the Pope's Encyclical
New York Times
June 21, 2015
http://www.nytimes.com/2015/06/22/world/europe/tell-us-how-your-church-a…
For Faithful, Social Justice Goals Demand Action on Environment
By Justin Gillis
New York Times
June 20, 2015
http://www.nytimes.com/2015/06/21/science/earth/for-faithful-social-just…
Francis' Momentous Encyclical: On Care for Our Common Home
By Dave Pruett
Huffington Post
June 19, 2015
http://www.huffingtonpost.com/dave-pruett/francis-momentous-encycli_b_76…
Pope Francis' Encyclical: Hearing the Cry of the Earth
By Llewellyn Vaughan-Lee
Huffington Post
June 19, 2015
http://www.huffingtonpost.com/llewellyn-vaughanlee/pope-francis-encyclic…
Falling in Love With the Earth: Francis' Faithful Ecology
By Jacob J. Erickson
Religion Dispatches
June 19, 2015
http://religiondispatches.org/falling-in-love-with-the-earth-francis-fai…
"Ridiculous" to tell pope to butt out of climate change debate
By Douglas Todd
The Vancouver Sun
June 19, 2015
http://blogs.vancouversun.com/2015/06/19/ridiculous-to-tell-pope-to-butt…
Metropolitan John Zizioulas: Laudato Si' give Orthodox "great joy"
Vatican Radio
June 18, 2015
http://en.radiovaticana.va/news/2015/06/18/metropolitan_john_zizioulas_l…
Papal Encyclical Heartens Proponents of Fossil-Fuel Divestment
By John Schwartz
New York Times
June 18, 2015
http://www.nytimes.com/2015/06/19/science/earth/papal-encyclical-hearten…
The Magna Carta of integral ecology: Cry of the Earth, Cry of the poor
By Leonardo Boff
Earth Charter International
June 18, 2015
http://www.earthcharterinaction.org/content/articles/1149/1/Article-by-L…
Pope Francis and Integral Ecology
By Sam Mickey
Becoming Integral
June 18, 2015
http://becomingintegral.com/2015/06/18/pope-francis-and-integral-ecology/
Laudato Si' and Water: The Vatican's Encyclical Letter and Global Water Challenges
By Peter H. Gleick, President, Pacific Institute
Huffington Post
June 18, 2015
http://www.huffingtonpost.com/peter-h-gleick/laudato-si-and-water-the_b_…
Pope Francis' Encyclical: Clean Energy and the Moral Case for Climate Solutions
By Gabe Elsner, Executive Director, Energy and Policy Institute
Huffington Post
June 18, 2015
http://www.huffingtonpost.com/gabe-elsner/pope-francis-encyclical-c_b_76…
ELCA issues statement on Pope Francis' encyclical on climate change
Evangelical Lutheran Church in America
June 18, 2015
http://elca.org/News-and-Events/7752
The Guardian view on Laudato Si': Pope Francis calls for a cultural revolution
Editorial
The Guardian
June 18, 2015
http://www.theguardian.com/commentisfree/2015/jun/18/guardian-view-on-la…
Why Pope Francis' encyclical matters
By Thomas Reese
National Catholic Reporter
June 18, 2015
http://ncronline.org/blogs/faith-and-justice/why-pope-francis-encyclical…
Pope Francis sounds the alarm on the environment and he wants everyone to listen
By Matthew Bell
PRI's The World
June 18, 2015
http://www.pri.org/stories/2015-06-18/pope-francis-sounds-alarm-environm…
Pope Francis: The Cry of the Earth
By Bill McKibben
The New York Review of Books
June 18, 2015
http://www.nybooks.com/blogs/nyrblog/2015/jun/18/pope-francis-encyclical…
Top Ten Takeaways from 'Laudato Si"
By James Martin, S.J.
America Magazine
June 18, 2015
http://americamagazine.org/issue/top-ten-takeaways-laudato-si
Anglican environmental network chair welcomes Papal climate encyclical
Anglican Communion News Service
June 18, 2015
http://www.anglicannews.org/news/2015/06/anglican-environmental-network-…
Church of England Welcomes Climate Encyclical
Church of England
June 18, 2015
https://www.churchofengland.org/media-centre/news/2015/06/church-of-engl…
Operation Noah welcomes 'timely' climate encyclical
Independent Catholic News
June 18, 2015
http://www.indcatholicnews.com/news.php?viewStory=27727
How to Read Pope Francis on the Environment
Interviewee: Mary Evelyn Tucker and John Grim
Interviewer: Robert McMahon
Council on Foreign Relations
June 18, 2015
http://www.cfr.org/holy-seevatican/read-pope-francis-environment/p36665
Pope Francis, in Sweeping Encyclical, Calls for Swift Action on Climate Change
By Jim Yardley and Laurie Goodstein
New York Times
June 18, 2015
http://www.nytimes.com/2015/06/19/world/europe/pope-francis-in-sweeping-…
What you need to know about Pope Francis's environmental encyclical
By Christiana Z. Peppard
Washington Post
June 18, 2015
http://www.washingtonpost.com/news/acts-of-faith/wp/2015/06/18/what-you-…1741434636005944
Pope Francis is actually bringing America's environmentalism movement to its religious and moral roots
By Mark Stoll
Washington Post
June 17, 2015
http://www.washingtonpost.com/news/acts-of-faith/wp/2015/06/17/pope-fran…
How Pope encyclical could affect more than just Catholics
By Kelsey Dallas
Desert News National
June 17, 2015
http://national.deseretnews.com/article/4871/how-pope-encyclical-could-a…
Pope Calls for Moral Campaign on Climate Crisis
By Kieran Cooke
Climate News Network
June 17, 2015
http://www.climatenewsnetwork.net/pope-calls-for-moral-campaign-on-clima…
Will Pope's Much-Anticipated Encyclical Be A Clarion Call On Climate Change?
By Sylvia Poggioli
NPR
June 16, 2015
http://www.npr.org/sections/parallels/2015/06/16/414666357/popes-missive…
Pope Francis warns of destruction of world's ecosystem in leaked encyclical
By Stephanie Kirchgaessner and John Hooper in Rome
The Guardian
June 15, 2015
http://www.theguardian.com/world/2015/jun/15/pope-francis-destruction-ec…
"Protecting the Whole of Creation"
A service that the Bishop of Rome is called to carry out
La Civiltà Cattolica 2015 II 537-551 | 3960
http://www.laciviltacattolica.it/articoli_download/extra/Editorial-ENG.pdf
Pope Francis' encyclical: PIK-scientists to speak in the Vatican and in Berlin
Potsdam Institute for Climate Impact Research (PIK)
June 12, 2015
https://www.pik-potsdam.de/news/in-short/pope-francis-encyclical-pik-sci…
Torah, Pope Francis, & Crisis Inspire 300+ Rabbis to Call for Climate Action
Religion News Service
June 10, 2015
https://theshalomcenter.org/torah-pope-crisis-inspire-300-rabbis-call-vi…
Climate encyclical expected to send strong moral message to the world
By Barbara Fraser
National Catholic Reporter
June 8, 2015
http://ncronline.org/blogs/eco-catholic/climate-encyclical-expected-send…
5 Reasons Pope Francis' Encyclical on the Environment Matters
By Reynard Loki
AlterNet
June 7, 2015
http://www.alternet.org/environment/5-reasons-pope-franciss-encyclical-e…
About Pope Francis' Encyclical, "Laudato sii"
By Terri MacKenzie
Ecospirituality Resources
June 5, 2015
http://ecospiritualityresources.com/2015/06/05/popes-encyclical-laudato-…
All children deserve a healthy climate
By Mitchell C. Hescox
National Catholic Reporter
June 3, 2015
http://ncronline.org/blogs/eco-catholic/all-children-deserve-healthy-cli…
"Cultivating and Caring for Creation," 12 new on-line videos and study guides in anticipation of Pope Francis' coming encyclical, "Praised Be," on the environment
Green Spirit Television
June 2, 2015
http://fore.yale.edu/files/Cultivating_and_Caring_for_Creation.pdf
World View of Global Warming: The Photographic Documentation of Climate Change
By Gary Braasch
World View of Global Warming
June 2015
http://worldviewofglobalwarming.org/
The COEJL Guide to Jewish-Catholic Dialogue and the Environment
Coalition on the Environment and Jewish Life (COEJL)
Jewish Council for Public Affairs (JCPA)
June 2015
http://multi.jewishpublicaffairs.org/coejl/wp-content/uploads/sites/6/20…
Theology, Ecology, and the Word: Notes from Halki Summit
By George Handley
Home Waters
June 2015
https://www.patheos.com/blogs/homewaters/2015/06/theology-ecology-and-th…
https://www.patheos.com/blogs/homewaters/2015/06/theology-ecology-and-th…
https://www.patheos.com/blogs/homewaters/2015/06/theology-ecology-and-th…
Pope Francis' climate change encyclical expected to make global impact
By Ed Stannard
New Haven Register
May 30, 2015
http://www.nhregister.com/general-news/20150530/pope-francis-climate-cha…
Pope Francis' Integral Ecology
By Dave Pruett
Huffington Post
May 28, 2015
http://www.huffingtonpost.com/dave-pruett/pope-francis-integral-eco_b_74…
Awaiting ecology encyclical, Catholic groups prepare for pope's message
By Dennis Sadowski
Catholic News Service
May 27, 2015
http://cnstopstories.com/2015/05/27/awaiting-ecology-encyclical-catholic…
Encyclical on environment sparks hope among academics, activists
By Thomas Reese
National Catholic Reporter
May 26, 2015
http://ncronline.org/blogs/eco-catholic/encyclical-environment-sparks-ho…
Catholics organize to promote pope's climate change message
USA Today
May 25, 2015
http://www.usatoday.com/story/news/nation-now/2015/05/24/catholics-sierr…
Catholics prepare for pope's climate stance
By Rachel Zoll, Associated Press
The Columbian
May 23, 2015
http://www.columbian.com/news/2015/may/23/catholics-prepare-for-popes-cl…
The Catholic Case for Tackling Climate Change
By Stephen Seufert
The Huffington Post
May 21, 2015
http://www.huffingtonpost.com/stephen-seufert/the-catholic-case-for-tack…
Nuclear weapons: the greatest threat to the environment
By Thomas C. Fox
National Catholic Reporter
May 20, 2015
http://ncronline.org/blogs/ncr-today/nuclear-weapons-greatest-threat-env…
Pope Francis endorses climate action petition
By Brian Roewe
National Catholic Reporter
May 15, 2015
http://ncronline.org/blogs/eco-catholic/pope-francis-endorses-climate-ac…
How will the world react to Pope Francis's encyclical on climate change?
By Neil Thorns
The Guardian
May 14, 2015
http://www.theguardian.com/environment/2015/may/14/how-will-the-world-re…
Key advisor blasts US criticism to pope's environmental stance
By Inés San Martín, Vatican correspondent
Crux
May 12, 2015
http://www.cruxnow.com/church/2015/05/12/key-advisor-blasts-us-blowback-…
Pope says environmental sinners will face God's judgment for world hunger
AFP in Vatican City
The Guardian
May 12, 2015
http://www.theguardian.com/world/2015/may/12/pope-environmental-sinners-…
A papal statement on climate change could lead to greener Britain
By Soli Salgado
National Catholic Reporter
May 8, 2015
http://ncronline.org/blogs/eco-catholic/papal-statement-climate-change-c…
Pope Francis: 'If We Destroy Creation, Creation Will Destroy Us'
By Kieran Cooke
EcoWatch
May 6, 2015
https://ecowatch.com/2015/05/06/pope-francis-moral-dimensions-climate-ch…
Blessed Are the Climate Advocates
By Michael Shank
May 1, 2015
Slate
http://www.slate.com/articles/health_and_science/science/2015/05/pope_fr…
Pope Francis Unlikely to Sway Catholic Republicans on Climate Change
By Katherine Bagley
InsideClimate News
May 1, 2015
http://insideclimatenews.org/news/01052015/pope-francis-unlikely-sway-ca…
Pope Francis has given the climate movement just what it needed — faith
By Chris Mooney
Washington Post
April 30, 2015
http://www.washingtonpost.com/news/energy-environment/wp/2015/04/30/pope…
Pope Francis' Encyclical on Global Warming
By Henry Auer
Global Warming Blog
April 30, 2015
http://warmgloblog.blogspot.com/2015/04/pope-francis-encyclical-on-globa…
Climate Change and the Common Good: A Statement of the Problem and the Demand for Transformative Solutions
The Pontifical Academy of Sciences and the Pontifical Academy of Social Sciences
April 29, 2015
http://www.casinapioiv.va/content/dam/accademia/pdf/protect/climate_chan…
Declaration of Religious Leaders, Political Leaders, Business Leaders, Scientists and Development Practitioners
Pontifical Academy of Sciences
April 28, 2015
http://www.casinapioiv.va/content/dam/accademia/pdf/protect/declaration.pdf
Vatican presses politicians on climate change
By Roger Harrabin, BBC environment analyst
BBC
April 28, 2015
http://www.bbc.com/news/science-environment-32487874
Pope Francis Steps Up Campaign on Climate Change, to Conservatives' Alarm
By Coral Davenport and Laurie Goodstein
New York Times
April 27, 2015
http://www.nytimes.com/2015/04/28/world/europe/pope-francis-steps-up-cam…
Pope Francis poised to weigh in on climate change with major document
By Michelle Boorstein
Washington Post
April 27, 2015
http://www.washingtonpost.com/local/pope-francis-poised-to-weigh-in-on-c…
Panel contemplates why the papal encyclical on the environment will matter
By Jamie Manson
April 15, 2015
National Catholic Reporter
http://ncronline.org/blogs/grace-margins/panel-contemplates-why-papal-en…
Pope Francis throws the weight of his office behind tackling climate change
By David Gibson
Religion News Service
April 15, 2015
http://www.religionnews.com/2015/04/15/pope-francis-throws-weight-office…
Catholics prep for Pope Francis to tackle climate in upcoming encyclical
By Marianne Lavelle
The Daily Climate
April 2, 2015
http://www.dailyclimate.org/tdc-newsroom/2015/03/pope-encyclical-climate…
The Greening of Pope Francis
By Charles J. Reid, Jr.
The Huffington Post
March 31, 2015
http://www.huffingtonpost.com/charles-j-reid-jr/the-greening-of-pope-fra…
Papal ecology: Protecting all God's creatures, respecting God's plan
By Cindy Wooden
Catholic News Service
March 26, 2015
http://www.catholicnews.com/data/stories/cns/1501313.htm
Pope: Future of humanity depends on protecting, sharing water
By Carol Glatz
National Catholic Reporter
March 23, 2015
http://ncronline.org/blogs/eco-catholic/pope-future-humanity-depends-pro…
Pope puts climate heat on GOP
By Tom Krattenmaker
USA Today
March 23, 2015
http://www.usatoday.com/story/opinion/2015/03/22/pope-climate-change-gop…
Cardinal hints at main themes in Pope's climate change encyclical
By Ed King
RTCC
March 12, 2015
http://www.rtcc.org/2015/03/11/cardinal-hints-at-main-themes-in-popes-cl…
Pope Francis and the Environment: Yale Examines Historic Climate Encyclical
By Kevin Dennehy
Yale School Forestry & Environmental Studies
March 11, 2015
https://environment.yale.edu/news/article/pope-francis-and-the-environme…
Hispanics Lead U.S. Catholics on Climate Change
By Katie Rose Quandt
Commonweal
March 11, 2015
https://www.commonwealmagazine.org/hispanics-lead-us-catholics-climate-c…
Turkson talks papal encyclical, 'integral ecology' at Irish lecture
By Brian Roewe
National Catholic Reporter
March 10, 2015
http://ncronline.org/blogs/eco-catholic/turkson-talks-papal-encyclical-i…
The Environment's Pope
By John L. Allen Jr.
Time
March 7, 2015
http://time.com/3729925/francis-environment/
Papal envoy to UN: Climate change 'an issue of justice for everyone'
By Brian Roewe
National Catholic Reporter
March 6, 2015
http://ncronline.org/blogs/eco-catholic/papal-envoy-un-climate-change-is…
Cardinal Turkson sheds light on Pope Francis's environmental encyclical
By Bob Gronski
Catholic Rural Life
March 6, 2015
https://catholicrurallife.org/cardinal-turkson-sheds-light-on-pope-franc…
The Sacrament of Creation: What Can We Expect from Pope Francis's Ecological Encyclical?
By Clive Hamilton
ABC Religion and Ethics
March 3, 2015
http://www.abc.net.au/religion/articles/2015/03/03/4190521.htm
Religious leaders urge action to combat climate change
By Mark Pattison
Catholic News Service
February 23, 2015
http://www.catholicnews.com/data/stories/cns/1500810.htm
Catholics Fast for Lent in Support of Pope Francis' Call for Climate Action
By Cole Mellino
EcoWatch
February 18, 2015
http://ecowatch.com/2015/02/18/catholics-fast-lent-support-pope-francis-…
Will the Vatican Become a New Leader Against Climate Change?
By Kevin Mathews
Care2
February 17, 2015
http://www.care2.com/causes/will-the-vatican-become-a-new-leader-against…
Tonga's King talks climate change with Pope Francis
By Sophie Yeo
Responding to Climate Change
February 17, 2015
http://www.rtcc.org/2015/02/17/tongas-king-talks-climate-change-with-pop…
Catholic group launches global climate-focused Lenten fast
By Brian Roewe
Eco Catholic
National Catholic Reporter
February 17, 2015
http://ncronline.org/blogs/eco-catholic/catholic-group-launches-global-c…
Historic Catholic Climate Lenten Fast To Be Held in 45 Countries
Global Catholic Climate Movement
February 16, 2015
http://www.scny.org/historic-catholic-climate-lenten-fast-to-be-held-in-…
Anticipation building for papal encyclical on environment
By Mark Pattison
Catholic News Service
February 12, 2015
http://catholicphilly.com/2015/02/news/national-news/anticipation-buildi…
Rediscovering the moral dimension of climate change
By Jonathon Porritt
The Ecologist
February 9, 2015
http://www.theecologist.org/ecologist_partners/2739744/rediscovering_the…
Pope Francis: It's Christian to protect the environment
By David Gibson, Religion News Service
USA Today
February 9, 2015
http://www.usatoday.com/story/news/world/2015/02/09/pope-francis-environ…
Pope Mass: Protecting Creation a Christian responsibility
Vatican Radio
February 9, 2015
http://www.news.va/en/news/pope-mass-protecting-creation-a-christian-res…
Pope Francis: cultivate and preserve Mother Earth
Vatican Radio
February 2, 2015
http://www.news.va/en/news/pope-francis-cultivate-and-preserve-mother-ea…
Pope Francis and Climate Change: A Catholic Tradition
By Carolyn Woo
Huffington Post
February 2, 2015
http://www.huffingtonpost.com/catholic-relief-services/pope-francis-and-…
EPA chief at Vatican: Obama 'aligned' with Francis on climate change
By Joshua J. McElwee
National Catholic Reporter
January 30, 2015
http://ncronline.org/blogs/eco-catholic/epa-chief-vatican-obama-aligned-…
A New Paradigm for Catholic Energy Ethics
By Erin Lothes Biviano
Catholic Moral Theology
January 28, 2015
http://catholicmoraltheology.com/a-new-paradigm-for-catholic-energy-ethics/
US to Enlist Pope Francis' Help on Climate Change
Reuters
January 28, 2015
http://www.voanews.com/content/reu-us-enlist-pope-francis-help-climate-c…
Pope Francis will visit New York City, Washington, D.C. and Philadelphia during September visit to U.S.
By Sasha Goldstein
New York Daily News
January 19, 2015
http://www.nydailynews.com/new-york/pope-francis-visit-nyc-3-city-u-s-sw…
Details of the proposal for Pope Francis' US visit revealed
By Alan Holdren and Elise Harris
Catholic News Agency
January 18, 2015
http://www.catholicnewsagency.com/news/exclusive-details-of-the-proposal…
Church Authority and Assent: Clarifications Ahead of Pope Francis's Encyclical
By Daniel DiLeo
Political Theology Today
January 16, 2015
http://www.politicaltheology.com/blog/church-authority-and-assent-clarif…
Storm Warnings for Pope's Climate Stop in the Philippines
By Andrew C. Revkin
Dot Earth
New York Times
January 16, 2015
http://dotearth.blogs.nytimes.com/2015/01/16/storm-warnings-for-popes-pl…
Pope Francis Hopes World Leaders Will Make the Environment a Priority
By Ashley Curtin
Nation of Change – Bullhorn
January 16, 2015
http://bullhorn.nationofchange.org/pope_francis_environment_a_priority
Pope to make moral case for action on climate change
By Andy Coghlan
New Scientist
January 14, 2015 
http://www.newscientist.com/article/mg22530044.500-pope-to-make-moral-ca…
Faith, reason, and the future Pope Francis: An interview with Dr. Pablo Canziani
By Bill Patenaude
Catholic Ecology
January 9, 2015
http://catholicecology.net/blog/faith-reason-and-future-pope-francis-int…
Pope Francis, the climate activist
By Pia Ranada
Passig City Rappler
January 8, 2015
http://www.rappler.com/specials/pope-francis-ph/79824-pope-francis-clima…
'Rock-star pope' intends to amplify his climate message
By Scott Detrow
ClimateWire
January 7, 2015
http://www.eenews.net/stories/1060011220
Pope Francis plants a flag in the ground on climate change
By John Abraham
The Guardian
January 6, 2015
http://www.theguardian.com/environment/climate-consensus-97-per-cent/201…
Pope Francis climate change call to action makes waves in faith communities
CBC/Radio–Canada
January 5, 2015
http://www.cbc.ca/thecurrent/episode/2015/01/05/pope-francis-climate-cha…
Why Pope Francis is going green in 2015
By Stephen Scharper
The Star
January 5, 2015
http://www.thestar.com/opinion/commentary/2015/01/05/why_pope_francis_is…  
2015 could be the year we save the earth
By NCR Editorial Staff
National Catholic Reporter
January 2, 2015
http://ncronline.org/blogs/eco-catholic/editorial-2015-could-be-year-we-…
Tracing the Roots of Pope Francis's Climate Plans for 2015
By Andrew C. Revkin
Dot Earth
New York Times
December 31, 2014
http://dotearth.blogs.nytimes.com/2014/12/31/tracing-the-roots-of-pope-f…
Pope Francis Calls for Action on Climate Change & Capitalism on a Planet "Exploited by Human Greed"
Democracy Now
December 31, 2014
http://www.democracynow.org/2014/12/31/pope_francis_calls_for_action_on
The Pope Thinks Climate Change Is a Major Threat. So Do American Catholics.
By James West
Mother Jones
December 30, 2014
http://www.motherjones.com/environment/2014/12/pope-francis-climate-change
What Can a Popular Pope Do About Climate Change?
By Nicholas St. Fleur
The Atlantic
December 30, 2014
http://www.theatlantic.com/international/archive/2014/12/what-can-a-popu…
Pope Francis's edict on climate change will anger deniers and US churches
By John Vidal
The Guardian
December 27, 2014
http://www.theguardian.com/world/2014/dec/27/pope-francis-edict-climate-…
Pope Francis: climate evangelist?
By Virginia Gewin
Flux
December 19, 2014
https://www.beaconreader.com/flux/pope-francis-climate-evangelist
Preparing for the Storm: Anticipating and Countering the Likely Attacks on Pope Francis and His Environmental Encyclical
By Dan DiLeo
Millennial Journal
December 16, 2014
http://millennialjournal.com/2014/12/16/preparing-for-the-storm-anticipa…
Pope Francis's Ecology Encyclical – What Can We Expect?
By Henry Longbottom, SJ
The Jesuit Post
December 10, 2014
https://thejesuitpost.org/2014/12/pope-franciss-ecology-encyclical-what-…
Pope Francis renews attack on mafia in Italian region scarred by toxic waste
Reuters
July 27, 2014
http://www.japantimes.co.jp/news/2014/07/27/world/social-issues-world/po…
The Pope and the Sin of Environmental Degradation
Living on Earth
July 18, 2014
http://www.loe.org/shows/segments.html?programID=14-P13-00029&segmentID=1
Pope Francis's Radical Environmentalism
Exploiting the earth "is our sin," the pontiff says.
By Tara Isabella Burton
The Atlantic
July 11, 2014
http://www.theatlantic.com/international/archive/2014/07/pope-franciss-r…
Pope Francis: 'We Are Custodians of Creation'
By Andrew C. Revkin
New York Times
May 22, 2014
http://dotearth.blogs.nytimes.com/2014/05/22/pope-francis-we-are-custodi…
Pope Francis wants to save the planet
By Michael Trimmer
Christian Today
May 9, 2014
http://www.christiantoday.com/article/pope.francis.wants.to.save.the.planet/37321.htm
UN to back Pope Francis statement on 'human ecology'
By Sophie Yeo
Responding to Climate Change (RTCC)
May 8, 2014
http://www.rtcc.org/2014/05/08/un-to-back-pope-francis-statement-on-human-ecology/
Can a Pope Help Sustain Humanity and Ecology?
By Andrew C. Revkin
Dot Earth
May 6, 2014
http://dotearth.blogs.nytimes.com/2014/05/06/can-a-pope-help-sustain-humanity-and-ecology/?_php=true&_type=blogs&_php=true&_type=blogs&_php=true&_type=blogs&src=rechp&_r=2
Pope Francis urged to back fossil fuel divestment campaign
By Graham Readfearn
The Guardian
April 16, 2014
http://www.theguardian.com/environment/2014/apr/16/pope-francis-back-fossil-fuel-divestment-campaign-religions-groups
'The fragile world': Church teaching on ecology before and by Pope Francis
By Donal Dorr
Thinking Faith
February 26, 2014
http://www.thinkingfaith.org/articles/20140226_1.htm
Pope Francis preps tome on the environment
By Jonathan Easley
The Hill
January 25, 2014
http://thehill.com/blogs/e2-wire/196419-pope-francis-preps-tome-on-the-e…
My message to the World Economic Forum in Davos
By Pope Francis
World Economic Forum
January 21, 2014
https://agenda.weforum.org/2014/01/pope-francis-message-davos-2014/
Pope Francis Opens Ministry: "Let Us Be Protectors"
By Nicole Winfield
NBC Bay Area
March 26, 2013
http://www.nbcbayarea.com/news/national-international/NATL-Pope-Francis-…
Pope Francis Raises Hopes for an Ecological Church
By Marcela Valente
Inter Press Service
March 22, 2013
http://www.ipsnews.net/2013/03/pope-francis-raises-hopes-for-an-ecologic…
Pope Francis Installation Mass Homily Text
NBC Bay Area
March 19, 2013
http://www.nbcbayarea.com/news/national-international/Pope-Francis-Homil…
 
---
Header photo: "Fridays for Future" demonstration, 2019, Rome, Italy