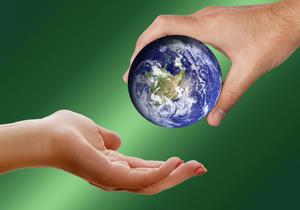 The warming of Earth's climate is among the most complex and urgent challenges facing life on Earth. Caused by human activity, particularly the emission of carbon dioxide due to the combustion of coal, oil, and natural gas, anthropogenic climate change goes by many names, including global warming, global heating, the climate crisis, and the climate emergency, among others. While religions alone are not sufficient to undertake the transitions required to mitigate and adapt to a heating climate, it would not be an exaggeration to say that their participation in those transitions is necessary.  Here you will find a wealth of resources for further exploration of the intersection between religious traditions and communities and the climate emergency.
Overview Essay

See this overview for a brief discussion on the Climate Emergency and how religious communities are responding to this world crisis.

Climate Change Statements

Here you'll find official statements from the major world religions and religious organizations regarding the climate crisis, organized by religious tradition.

Books on Religion and Climate Change

A sampling of some of the best books on the intersection of religious traditions and the climate emergency can be found here from 2008 to the present.

Articles on Religion and Climate Change

A chronological listing of articles  can be found here from 2016 to the present. Articles are added very frequently, so please check back often.

Daedalus Issue on Climate Change

Full information on the 2001 Daedaus journal issue Religion and Ecology: Can the Climate Change?, edited by Mary Evelyn Tucker and John Grim, can be found here, including links to the full text of all articles contained in the issue.

Multimedia

This page contains videos and podcasts regarding the climate crisis. The majority feature Mary Evelyn Tucker and John Grim, though there is a small sampling from other scholars in the field.

Links

Links to additional websites are offered here, which also address the intersection of religion and climate issues, for further reading and exploration.
---
Header photo: German "Fridays for Future" climate change demonstration