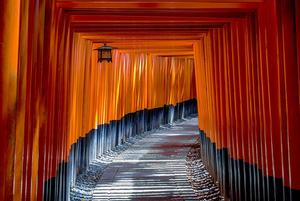 As Rosemary Bernard tells us, the Shinto tradition encompasses both local community practices as well as the formal ceremonial practices of the imperial institution. But largely "Shinto beliefs are often values that are entrenched in Japanese folk culture in general, and which find expression in other areas beyond religion." Sacred nature shrines and a fluid interplay between nature, human, and divine show that this ancient system has much to teach us about reverence for our home, Earth.
Overview Essay

In "Shinto and Ecology: Practice and Orientations to Nature" Rosemarie Bernard of Waseda University gives us a look at Shinto beliefs and practices around nature and the environment, including their concept of sacred space; the interrelation and interactivity of human, deity, and nature; and ceremonies of ritual purification.

Advisory Group Members
Go here to see a list of all of the Forum advisors working on the intersection of Shinto and ecology, including brief biographies and contact information. Go here to read more about the Forum Advisory Group.
Bibliography

This list of resources, complied by Rosemary Bernard, provides additional avenues for exploration of this topic from the 1960s through the 1990s.

Statements

Here you will find the Shinto Faith Statement released by the Jinja Honcho, the representative body of all Shinto Shrines in Japan.

Engaged Projects

Here we share a short list of engaged projects working within the Shinto tradition. If you have a project that you believe should belong in this section, Please message our webmaster using the Contact Form.

Multimedia

Located here are multimedia offerings of interest, relating to the intersection of Shinto and ecology.

Links

In addition to the links in the Engaged Projects section, we have provided a brief list of additional online resources here.
---
Header photo: The torii of Itsukushima Shrine,Itsukushima, Japan