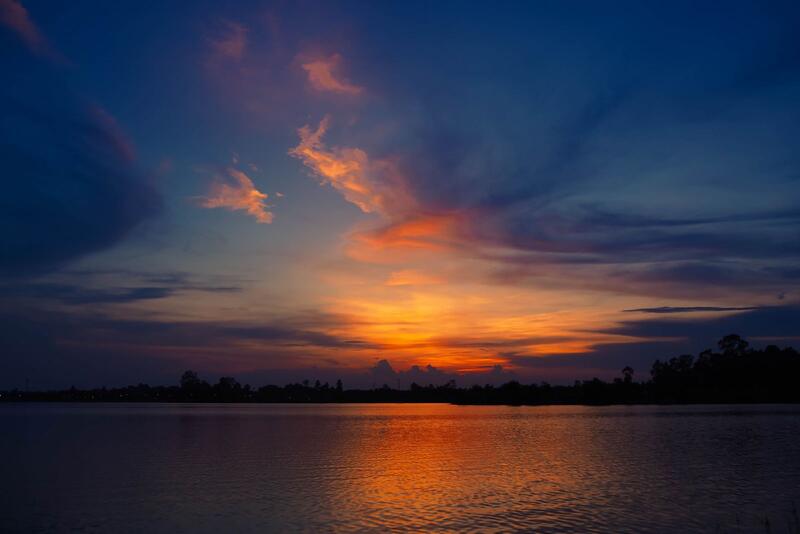 Joyous summer to one and all! Here in the Northern Hemisphere, the summer solstice occured on Tuesday, heralding the longest day and our crossing of the threshold into the time of great natural abundance and bountiful growth.
To celebrate, we'd like to share a couple of poems that honor the energy of summer, particulary that special liminal time when we ease from the busyness of the day into the dark sacred night. 
June Sunset
By Sarojini Naidu
Here shall my heart find its haven of calm,
By rush-fringed rivers and rain-fed streams
That glimmer thro' meadows of lily and palm.
Here shall my soul find its true repose
Under a sunset sky of dreams
Diaphanous, amber and rose.
The air is aglow with the glint and whirl
Of swift wild wings in their homeward flight,
Sapphire, emerald, topaz, and pearl.
Afloat in the evening light.
A brown quail cries from the tamarisk bushes,
A bulbul calls from the cassia-plume,
And thro' the wet earth the gentian pushes
Her spikes of silvery bloom.
Where'er the foot of the bright shower passes
Fragrant and fresh delights unfold;
The wild fawns feed on the scented grasses,
Wild bees on the cactus-gold.
An ox-cart stumbles upon the rocks,
And a wistful music pursues the breeze
From a shepherd's pipe as he gathers his flocks
Under the pipal-trees.
And a young Banjara driving her cattle
Lifts up her voice as she glitters by
In an ancient ballad of love and battle
Set to the beat of a mystic tune,
And the faint stars gleam in the eastern sky
To herald a rising moon.
From Poets.org:
Sarojini Naidu was born on February 13, 1879 in Hyderabad, India. A political activist and poet, she joined the Indian National Congress in 1904 and was vocal about women's rights, including the right to vote in India. Naidu was the first Indian woman to be appointed president of the Indian National Congress and to be Governor of United Provinces in 1947.
In Summer Twilight
By Joshua Henry Jones, Jr.
Just a dash of lambent carmine
Shading into sky of gold;
Just a twitter of a song-bird
  Ere the wings its head enfold;
Just a rustling sigh of parting
  From the moon-kissed hill to breeze;
And a cheerful gentle, nodding
  Adieu waving from the trees;
Just a friendly sunbeam's flutter
  Wishing all a night's repose,
Ere the stars swing back the curtain
  Bringing twilight's dewy close.
Joshua Henry Jones, Jr. was an African-American poet who also wrote the lyrics for Boston's official hymn, "Dear Old Boston." He published a novel in 1924 (Sanction of Law) about the marriage between an African American man and a caucasian woman, based loosely on his own life.