Today we wanted to highlight a wonderful event happening this week: the 10th Rome and Assissi Spirituality & Sustainability Conference. This year's theme is "Contemplation & Action for Social and Ecological Renewal." You can view the full program here.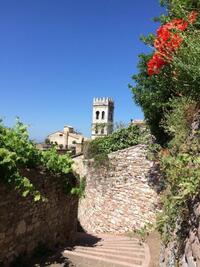 From the Earth Charter site:
The 10th Spirituality & Sustainability Conference will be held in Rome and Assisi from 4 to 11 June 2023. The Spirituality & Sustainability Global (SSGN) is a co-convenor of this conference, and they are inviting members of the SSGN network to participate and those interested to register. The SSGN was founded by a group of past participants in Spirituality & Sustainability Conferences held in Assisi, Italy, in 2017 and 2018 and following a series of 10 similar conferences held in the 90s, always counting with the warm welcome from the Mayor of Assisi in the beautiful home of St. Francis & St. Clare. The latest two conferences were organized by Dr. Elizabetta Fererro, Emerita Professor of Religion at St. Thomas University, and Dr. Rick Clugston, a member of the Earth Charter International Council in consultation with a planning committee. These conferences were inspired by Thomas Berry's wisdom and guided by the Earth Charter values and principles. This next conference will include contemplative practices in sacred places, the sharing of spiritual practices, sharing efforts to promote transformational change, exploring collaborative opportunities, and supporting the work of young leaders.
Though there is no virtual way to participate in this event, Forum associate Sam King is in attendance, and we look forward to a reporting out from him when he returns! In the meantime, we invite you to view the following videos that came out of the 2017 Spirituality & Sustainability Conference.
Respectful Request to Pope Francis to Rescind the Doctrine of Discovery, 1493
Request to Pope Francis to Support the Protection of Sacred Sites - Mindahi Bastida, Otomi Peoples