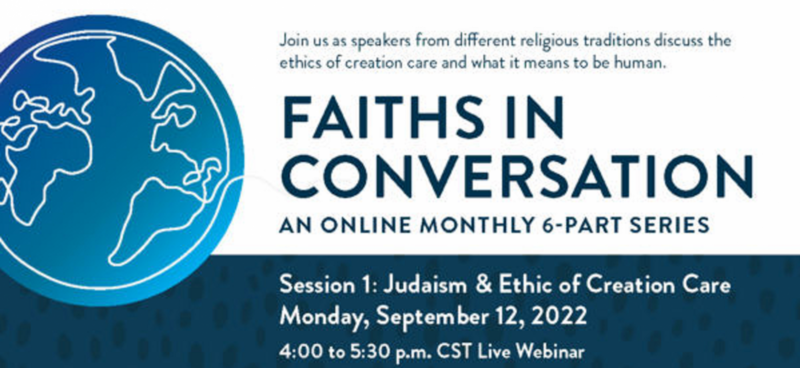 This autumn and winter, The Interfaith Council of Thanks-Giving Square (and associates) will be hosting a 6-part webinar series titled "Faiths In Conversation: Religion & Ethics of Creation Care." Each month they will focus on a different religious tradition. The first webinar on September 12 at 4pm CST will be on Judaism & Ethics of Creation Care. Forum advisor Hava Tirosh Samuelson will be speaking and Martin Jaffe of University of North Texas will be responding. You can register for that webinar here.
Subsequent months will cover Buddhism, Native Americans, Islam, Christianity, and Hinduism. Dates for future webinars have not yet been announced, but stay tuned to the event page on the Thanks-Giving Foundation website for those dates and for further information on the series.
From the event site:
This is a 6 part monthly series featuring scholars representing Judaism, Buddhism, Native Americans, Islam, Christianity & Hinduism. Speakers from different religious traditions will explain how their religious tradition understands the ethics of creation care. In addition to addressing the value of creation in itself, of particular concern will be the relationship of creation care to human dignity, economic justice, and migration stimulated by changes in the climate. Participants will learn how each religion understands what it means to be human in relation to the rest of the natural world, and the particular responsibilities of humans toward the natural world and their fellow humans. Each presentation will be followed by a brief response and the opportunity to ask questions of the speaker.
Speaker: Professor Hava Tirosh-Samuelson is Regents Professor of History, Irving and Miriam Lowe Professor of Modern Judaism, and Director of Jewish Studies at Arizona State University in Tempe, AZ. She holds a Ph.D. in Jewish Philosophy and Mysticism from the Hebrew University of Jerusalem (1978), and a BA in Religious Studies from SUNY-Stony Brook, New York (1974). Prior to joining the faculty of Arizona State University in 1999, she taught at Indiana University (1991-1999), Emory University in Atlanta (1988-1991), Columbia University in New York (1982-1988), and Hebrew Union College in New York (1980-1982).
Respondent: MARTIN D. YAFFE, Professor of Philosophy and Religion at University of North Texas, holds a B.A. from University of Toronto and a Ph.D. from Claremont Graduate University. His research interests include political philosophy and Jewish thought. He is author of Shylock and the Jewish Question (Johns Hopkins University Press, 1997) and of Leo Strauss on Moses Mendelssohn (University of Chicago Press, 2012); co-translator
For more about Hava, see these resources on the Forum website:
Read her overview essay on Judaism and Ecology
Read her introduction to the Judaism and Ecology volume
Watch video of her on our Religion & Ecology: Other Scholars multimedia page
Watch an interview with her in our FORE Spotlights Video Podcast series