In addition to this sampling, you can view a YouTube playlist of Buddhism and Ecology videos here.
---
"Caring for Our Global Environment"
His Holiness, the 14th the Dalai Lama
September 15, 2015
His Holiness the Dalai Lama speaking on taking daily responsibility to change our environment in response to global warming in this short clip from an interview given to Sofia Stril-Rever in Oxford, UK on September 15, 2015.
---
"Compassion in Action: Environmentalism for the 21st Century"
His Holiness, the 17th Karmapa
Germany
2015
His Holiness, the 17th Karmapa of the Tibetan Buddhist Kagyu School offers a vision for environmental action. The Karmapa compares our external environment to a container and sentient beings to its inner content: if the container is harmed, he says, those beings will suffer. Therefore, he suggests that we transform our lifestyles to control material desires and work toward the protection of the natural world.
---
"Compassion in Action — Buddhism and the Environment: A Conversation with the 17th Karmapa"
His Holiness, the 17th Karmapa
Interview by Mary Evelyn Tucker and Andrew Quintman
Yale University
April 7, 2015
Compassion in Action: Buddhism and the Environment, A Conversation with His Holiness the 17th Karmapa, Ogyen Trinley Dorje The Karmapa has been described as "a world spiritual leader for the 21st century" and has inspired millions of people worldwide to take action on social and environmental issues. The Karmapa speaks to the younger generation on the major challenges facing society today, including gender issues, food justice, rampant consumerism, and the environmental crisis. A forthcoming book will be based on his interactions with American university students, and focuses on living interdependence in an era of technological connectivity and emotional disconnection.
---
Khamkhien Suwano: "Spiritual Ecology and Buddhism"
Gaia Ashram Video Project
This video is a clip of an interview with the meditation master and ecologically engaged Buddhist, Khamkhien Suwano. In essence he is a practitioner of spiritual ecology. He speaks about his experiences of when he was a young monk living and practicing meditation in the forest. He tells about his love for nature and how through his meditation practice in the forest, his love for nature became stronger. This clip is part of the Gaia Ashram project which is an multifaceted education center on Deep Ecology, Permaculture and Ecovillage Design Education. Gaia Ashram videoproject is to find inspiring elders who have a deep love and deep spiritual connection with nature and have done the work to help nature. We will be looking at people who have a Holistic worldview and are not stuck in the Mechanistic worldview.
---
Damien Keown: "Virtues, Vices and the Environment: Ethics and Ecology in Early Buddhism"
Centre for Studies in Religion and Society, University of Victoria
Buddhism is often seen as an 'eco-friendly' religion with an expanded moral horizon encompassing not just human beings but also animals and the natural environment. But just how strong are Buddhism's ecological credentials? Is 'Green Buddhism' essentially a modern invention or do ecological values have a foundation in the earliest teachings? Adopting the role of sympathetic critic, Keown will explore the main approaches to this question, and evaluate their strengths and weaknesses. He suggests that while the development of a Buddhist ecology is not as straightforward as it appears at first sight, there are nevertheless grounds for optimism.
---
"Forest Monks"
PBS: Religion and Ethics Newsweekly
January 15, 2010
Engaged Buddhism means "you must confront social suffering," says Thai scholar and activist Sulak Sivaraksa, "and people suffer now because of the environment."
---
Chris Ives: "Buddhism and Ecology"
Chris Ives discusses Buddhism and Ecology with Mary Evelyn Tucker. "Buddhism and Ecology" is part of the larger "Conversations on World Religions and Ecology" project. Watch the whole "Conversations on World Religions and Ecology" series on the Forum on Religion and Ecology YouTube Channel.
---
"The South Asian Response to Journey of the Universe"
David Haberman, Christopher Ives, and Christopher Key Chapple
Journey of the Universe and Our Elegant Universe Symposium
Chautauqua Institution
June 2013
Three scholars of South Asian religions suggest ways in which those traditions might respond to Journey of the Universe. Dr. David Haberman, Professor of Religious Studies at Indiana University Bloomington, draws parallels with Hindu creation myths of the One becoming the many, suggesting that all of reality is interconnected and arising from the same source. Dr. Christopher Ives, Professor and Chair of Religious Studies at Stonehill College, suggests that Buddhism teaches people to move beyond egocentricity to realize that one affects and is affected by everything else, which resonates with Journey's notion of interdependent communities. Dr. Christopher Chapple, Professor of Indic and Comparative Theology at Loyola Marymount University, appeals to the structure of Jain temples to convey insights about the connection between the human body and the cosmos, the purification of consciousness, and the recovery of intimacy with life in its many forms.
---
Podcasts:
"Joanna Macy: The Work of Our Time"
Tricycle Talks (April 14, 2020)
Environmental activist and scholar Joanna Macy discusses the climate crisis as a form of positive disintegration that can give rise to what she calls The Great Turning—a transition to a life-sustaining culture in which humans live in renewed relationship with one another and with the Earth. Macy draws on Shambhala Buddhism and the poetry of Rainer Maria Rilke to inspire us to fall in love with the world, to face our suffering without fear, and to recognize the interdependence of all life.
---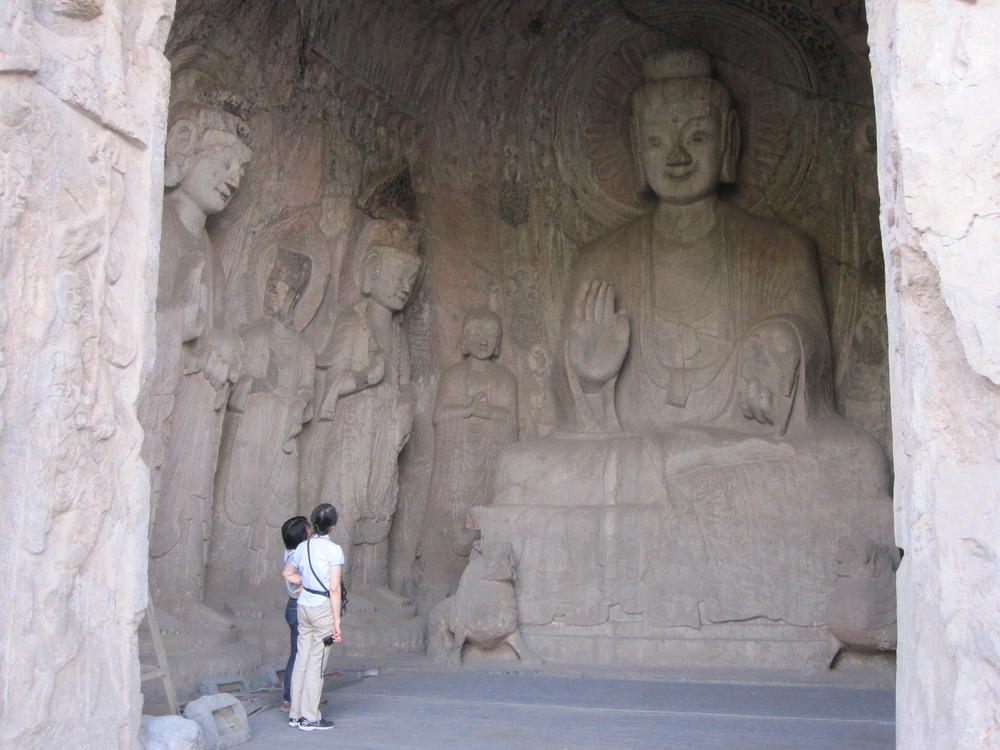 ---
Header photo credit: ©John Grim, Anuradhapura Ruwanwelisaya Stupa`s Elephant Statue, Sri Lanka; a UNESCO World Heritage site