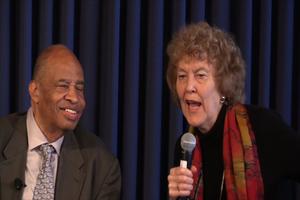 There is a rich body of resources available for those interested in further pursuing the topic of religion and ecology. We hope this collection of videos will help deepen your engagement. You'll find everything from conference keynotes and panels to interviews to more artistic expressions of the relationship between religion and ecology, and more
Videos on the intersection of religion and ecology can be found here. This includes lectures, keynotes, plenaries, panels and other appearances featuring Mary Evelyn Tucker and John Grim, as well as other scholars and visual content. The content herein focuses more on religion as a whole. If you are looking for videos on specific traditions and ecology, please go to the multimedia page under that tradition in our World Religions section.

Thomas Berry

A sampling of visual media regarding Thomas Berry is located here, dating from the 1980s until his death. There are also numerous videos about him and his work, including talks, panels, celebrations of his life, and more.

Parliament of the World's Religions

A sampling of videos from Parliament panels and keynotes related to religion and ecology are here. You'll find selections from the 2004, 2009, and 2015 Parliaments.

Earth Charter

A sampling of videos related to The Earth Charter are found here.

Journey of the Universe/Universe Story

Here you will find a variety of videos related to Journey of the Universe and the related topics of the Universe Story and cosmology. Content here includes lectures by and interviews with Thomas Berry Brian Swimme, Mary Evelyn Tucker and John Grim, among others.

FORE Spotlights Archive

Here you will find all of the videos in our new weekly video/podcast series FORE Spotlights. You can also find them here as audio podcasts. A new episode is uploaded here and on our homepage every Monday.
---
Additional Video Resources on this Website
In addition to the hundreds of videos found on these pages, you will find additional video content in numerous other places on our site. These include: