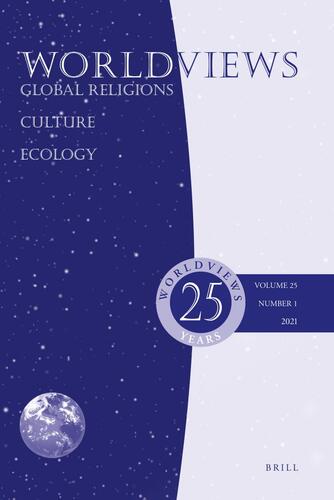 This year, the journal Worldviews: Global Religions, Culture, and Ecology is celebrating its 25th anniversary in print. To mark the occasion, the journal has made 25 articles, selected by editor James Miller, available for free to read online and download through the end of 2021. There is one article for each year of the journal's existence, from 1997-2021, across a wide range of topics. See the list below for the specific articles now available and links to each.
From the journal site:
Worldviews: Global Religions, Culture, and Ecology is an international academic journal that studies the relationships between religion, culture, and ecology worldwide. The journal addresses how cultural and ecological developments influence the world's major religions, giving rise to new forms of religious expression, and how in turn religious belief and cultural background can influence peoples' attitudes toward nature, environment and ecology. Over the past 25 years the journal has helped to define this new interdisciplinary field, expanded its range across the world, and provided a platform for emerging and established scholars to make their contributions in the area of religion and ecology. 
Editor James Miller has compiled a list of 25 articles – one from each year of the journal's life – that showcases the important and timely topics that Worldviews covers. To celebrate the 25th anniversary of Worldviews, this exciting Editor's Pick is available for free downloading until the end of 2021. There is no need to register.