Listed here are films about Indigenous peoples from various parts of the world and their struggle to preserve their sacred sites and ceremonies.
In addition to this sampling, you can view a YouTube playlist of Indigenous Traditions and Ecology videos here.
---
Indigenous Knowing and Climate Futures Panel | Congress 2023
York University
June 12, 2023
Candis Callison and Deborah McGregor, two distinguished Indigenous researchers and communicators, will speak about how Indigenous knowledges can make the threat of climate change and strategies of confronting it matter to broader publics. Award-winning author and activist Naomi Klein will respond.
---
The legal personhood of rivers: Environmental justice meets Indigenous worldviews
TORCH | The Oxford Research Centre in the Humanities
February 8, 2023
Nancy Tuaine, Whanganui Iwi: Up until April 2020, Nancy Tuaine was the Te Tai Hauāuru regional manager at Te Puni Kōkiri. She had previously spent nearly three years as chief advisor to the Toi Hautū (chief executive). During this time, she provided strategic advice and led engagement on the health and wellbeing of Māori, including Whānau Ora.
---
Indigenous peoples, climate change and the role of decent work for a just and peaceful transition
2022 Stockholm Forum on Peace and Development
June 29, 2022
The session 'Indigenous peoples, climate change and the role of decent work for a just and peaceful transition' was organized in partnership with Indigenous Peoples Major Group for Sustainable Development, International Labour Organization and Right Energy Partnership with Indigenous Peoples at the 2022 Stockholm Forum on Peace and Development (#SthlmForum) held on the theme 'From a Human Security Crisis Towards an Environment of Peace.' This session focuses on the interlinkages between indigenous peoples' rights, climate action, the world of work, human security, and peace. It provides insights from the perspectives of indigenous peoples and government officials. The discussion aims to identify actions for increasing policy coherence and building innovative partnerships that (a) address the risks faced by indigenous peoples from the impacts of climate change; and (b) seek contributions from indigenous women and men to advance climate mitigation and adaptation efforts. Moderator: Manuela Tomei, Director, Conditions of Work and Equality Department, ILO; Speakers:
Oscar Pérez Ramirez, Vice Minister of Sustainable Development, Ministry of Energy and Mining, Guatemala; Lucy Mulenkei, Vice president, International Indigenous Women's Forum; Ivan Zambrana-Flores, Minister Counsellor, Permanent Mission of Bolivia to the United Nations in New York; Joan Carling, Executive Director of the Right Energy Partnership with Indigenous Peoples.
---
Why Indigenous Forest Guardianship is Crucial to Climate Action | Nonette Royo
TED Talks
May 4, 2022
Indigenous communities have looked after their ancestral forests for millennia, cultivating immense amounts of knowledge on how to protect, nourish and heal these vital environments. Today, 470 million Indigenous people care for and manage 80 percent of the world's biodiversity – yet their legal rights to these lands are inexplicit and subject to exploitation by illegal loggers, miners and companies. Human rights lawyer Nonette Royo describes how her team at the Tenure Facility, an organization that provides legal assistance to Indigenous people by taking their land rights battles to court, will help these communities secure and defend 50 million hectares of forests over the next five years.
---
The Use of Indigenous Traditional Knowledge in Climate Change Strategies
Wilson Center
November 3, 2021
The risks posed by climate change, and in particular climate's impact on marginalized communities, have further exposed the linkages between climate change, environmental degradation, racism, and social injustice. Often missing from conversations focused on these injustices, however, is an awareness of the agency and knowledge that Indigenous communities bring to climate response. As the global community ramps up efforts to address climate change, incorporating Indigenous knowledge into those efforts could serve to inform scientific best practices for climate resilience and boost multi-stakeholder engagement at local, regional, and national levels. How can Indigenous knowledge help shape efforts to address climate change? What kinds of partnerships can ensure that Indigenous knowledge is incorporated into decision-making at various levels (i.e., from the local to national and international)? Join us for a discussion with leaders who are working to incorporate Indigenous knowledge into climate decision-making.
---
Decolonizing Climate Justice — With Khelsilem
Below the Radar Podcast
Simon Fraser University
August 31, 2021
Squamish Nation Councillor and community leader Khelsilem joins Am Johal on this first episode of Below the Radar's Climate Justice & Inequality series. In this episode, they discuss the climate crisis as a result of the colonial project, how climate change hits hardest for those already at a disadvantage, and the spaces where colonialism has existed within climate movements. Khelsilem speaks to his critique of fossil fuel infrastructure, the false narrative of individual responsibility, and the role governments play in worsening the crisis through policy decisions that favour oil and gas. We also hear about innovative affordable housing projects, such as Squamish Nation's Sen̓áḵw Development, and how to build climate-friendly design into new housing models.
---
Indigenous Perspectives on Eco-Justice with Petra Laiti
Feminist Futures Helsinki
May 24, 2021
Indigenous people have been marginalized by colonialism for centuries. In the era of the climate crisis, the general public has become increasingly aware that indigenous people play a key role in upholding eco-systems in their traditional lands. Still, the climate movement is not exempt from marginalizing indigenous voices. How can indigenous people be brought to the forefront of the climate debate? How can we recognize when we are trying to do good, but end up doing harm instead? Petra Laiti has a MSc in Organizational Leadership from the department of Economics and Business Administration at Hanken School of Economics. She has been a vocal figure amongst Sámi activists since 2016, and has helped create awareness around Indigenous land rights, cultural appropriation, and ethical tourism. Petra served as the chairwoman of the Sámi Youth association in Finland from 2017-2020. She is also part of the Ellos Deatnu! (Long Live Deatnu!) activist group. Since 2019, Petra has worked as a political assistant in the Finnish parliament.
---
"Environmental Justice in Indigenous Communities"
Virtual Hearing
House Committee on Natural Resources
May 31, 2021
The Subcommittee for Indigenous Peoples of the United States (SCIP) hosts a virtual, fully remote oversight hearing titled, "Environmental Justice in Indigenous Communities." Witnesses who testify on environmental justice efforts in their communities include the Honorable Ira Taken Alive of the Standing Rock Sioux Tribe of Fort Yates, ND; the Honorable Melvin J. Baker of the Southern Ute Indian Tribe of Ignacio, CO; and Mr. Herb Lee, Jr., president and CEO of the Pacific American Foundation in Kaneohe, HI.
---
Spotlights ~ Ep. 33, Sandy Bigtree (part 2), Indigenous Values Initiative
May 3, 2021
This week's episode of Spotlights is the second part of a two-part interview with Sandy Bigtree. She discusses more about her work with the Indigenous Values Initiative, and she talks about the ongoing impacts of the 1493 Doctrine of Discovery, which provided justification for Christian Europeans to explore and colonize places outside of Europe. You can find more information about the Indigenous Values Initiative on their website: https://indigenousvalues.org/​More information about indigenous religions and ecology can be found here: https://fore.yale.edu/World-Religions…​
---
Spotlights ~ Ep. 32, Sandy Bigtree (part 1), Indigenous Values Initiative
April 26, 2021
This week's episode of Spotlights, features Sandy Bigtree (Bear Clan), a citizen of the Mohawk Nation at Akwesasne. She discusses her work as a founding board member of the Indigenous Values Initiative, which fosters collaboration between the academic community and the Haudenosaunee to promote the message of peace that was brought to Onondaga Lake thousands of years ago. This is the first part of a two-part interview. You can find more information about the Indigenous Values Initiative on their website: https://indigenousvalues.org/​
---
Indigenous Environmental Justice, Knowledge and Law
Bradford Seminar
Princeton University, Center for Policy Research on Energy and the Environment
April 26, 2021
Deborah McGregor, Anishinabe, Associate Professor and Canada Research Chair: Indigenous Environmental Justice. Osgoode Hall Law School and Faculty of Environmental Studies, York University. Professor McGregor's research has focused on Indigenous knowledge systems and their various applications in diverse contexts including environmental and water governance, environmental justice, health and environment, climate change and Indigenous legal traditions. Professor McGregor remains actively involved in a variety of Indigenous communities, serving as an advisor and continuing to engage in community-based research and initiatives. Professor McGregor has been at the forefront of Indigenous environmental justice and Indigenous research theory and practice.
---
FORE Spotlights ~ Episode 15, Tyler Tully, University of Oxford
December 28, 2020
This week's episode of the Forum on Religion and Ecology podcast features Tyler M. Tully, a doctoral candidate in religious studies and the Arthur Peacocke Graduate Scholar in Science and Religion at the University of Oxford. He talks about his work at the intersection of Indigenous religion, critical race theory, traditional ecological knowledge (TEK), secularism, and (post)humanism. He also discusses his dissertation, "Critical Materialisms: Power, Place, and Personhood in White and Black 'Red' Spaces." Learn more about Tyler's work here: https://www.theology.ox.ac.uk/people/… You can find more information about Indigenous traditions on the Forum website: https://fore.yale.edu/World-Religions…
---
Indigenous Environmental Justice
Nakani Native Program
October 6, 2020
Dina Gilio-Whitaker, author of "As Long As the Grass Grows: The Indigenous Fight for Environmental Justice, from Colonization to Standing Rock", confronts not only the United States' violations of indigenous self-determination but also the mainstream environmental movement's legacy of contributing to those violations.
---
CORE Course - Grassroots Advocacy & Indigenous Environmental Justice
Humboldt State University, Native American Studies
July 8, 2020
The second installment of our three-part Advocacy & Water Protection in Native California training and certificate program will focus on water rights advocacy as it relates to culture, environmental justice, and community. The concept, "Water is Life" is a fundamental tenet of water rights advocacy and traditional ecological knowledge; this theme carries throughout the module. The panels in this series will explore grassroots movements, indigenous environmental justice, art, food sovereignty, culture, and community resilience as they relate to water justice in different watersheds. Moderator: Brittani Orona - UC Davis Native American Studies. Speakers: Tia Oros Peters (Zuni) - Seventh Generation Fund; Morning Star Gali (Pit River) - Save California California.
---
International Day for the Conservation of Tropical Forests: Highlighting IRI
Parliament of the World's Religions
June 26, 2020
As part of World UNITY Week and in observance of the International Day for the Conservation of Tropical Forests, the Parliament of the World's Religions partnered with the Interfaith Rainforest Initiative (IRI) and the Jane Goodall Institute to host a special program, highlighting the Interfaith Rainforest Initiative. The Interfaith Rainforest Initiative works globally and in major rainforest countries on the mobilization of faith-based leadership, advocacy and on-the-ground action to protect rainforests. It works in Brazil, Colombia, Democratic Republic of the Congo, Indonesia and Peru, which together contain more than 70% of the world's remaining tropical forests. Work in each country is focused on education and training, program development, communications and public outreach, faith-based mobilization, political advocacy and connecting religious leaders with allies from across sectors to multiply their collective impact. With Parliament Keynote and Jane Goodall Institute Founder, Jane Goodall; Senior Advisor, Forests & Climate, UN Environment Programme (UNEP), Charles Ian McNeill; Parliament Chair, Audrey Kitagawa; and Former UN Special Rapporteur on the Rights of Indigenous Peoples, Victoria Tauli-Corpuz. Enjoy the complete livestream, originally streamed on Friday, June 26th.
---
Voices of Indigenous Women
Pachamama Alliance
August 10, 2020
On August 10, 2020, Pachamama Alliance hosted
Voices of Indigenous Women: The Teachings of our Current Crises
in honor of International Day of the World's Indigenous Peoples. Hear a panel of Indigenous women from the Americas share perspectives from their traditions and experiences on the interconnectedness of all life as it relates to the timely conversation around intersectional environmentalism: the intersection of injustices happening to people and the Earth.
(follow link and scroll down the page to view video)
---
Indigenous knowledge meets science to take on climate change | Hindou Oumarou Ibrahim
TED Talks
April 24, 2020
To tackle a problem as large as climate change, we need both science and Indigenous wisdom, says environmental activist Hindou Oumarou Ibrahim. In this engaging talk, she shares how her nomadic community in Chad is working closely with scientists to restore endangered ecosystems – and offers lessons on how to create more resilient communities.
---
This 16-Year-Old Indigenous Activist is Fighting for Environmental Justice
Now This News
March 28, 2020
This 16-year-old Indigenous activist is fighting for environmental justice for her community, which sits just a mile away from one of the nation's largest coal plants. Meet Mikayla Johnson, a 16-year-old indigenous activist and member of the Diné Tribe in Black Mesa, AZ. Mikayla Johnson's Native community sits approximately 1 mile from the Navajo Generating Station, one of the nation's largest coal plants. Mikayla, who grew up without running water or electricity, has been persistent in her water conservation efforts. Additionally, her and her mother Nicole Horseherder are advocating for 100% renewable energy in their community.
---
Environmental Justice in Mi'kmaq & African Nova Scotian Communities: Ingrid Waldron
TEDxMSVUWomen
January 27, 2020
Dr. Ingrid Waldron focuses on her journey leading the Environmental Noxiousness, Racial Inequities and Community Health Project and the partners she has engaged along the way to address environmental racism in Nova Scotia through multi-disciplinary, intersectoral and intersectional approaches. Dr. Ingrid Waldron, is an Associate Professor in the Faculty of Health at Dalhousie University, the Director of the Environmental Noxiousness, Racial Inequities & Community Health Project (The ENRICH Project), and the Team Lead for the Health of People of African Descent Research Cluster at the Healthy Populations Institute at Dalhousie University. Ingrid's scholarship is driven by a long-standing interest in looking at the many ways in which spaces and places are organized by structures of colonialism and gendered racial capitalism. The 2019 documentary There's Something in the Water is based on Dr. Waldron's book and was co-produced by Waldron, Ellen Page, and Ian Daniel.
---
Why All Americans Should Care About "Environmental Racism"
Now This News
January 19, 2020
'Indigenous peoples have been on the front lines of environmental racism for decades' — Indigenous rights lawyer and activist Sherri Mitchell explains why all Americans should care about environmental justice and Indigenous issues. Mitchell was born & raised in the Penobscot Nation, a federally-recognized native tribe in Maine, where she witnessed the impacts of the climate crisis 2020 firsthand. "Environmental justice is a term that is thrown around quite frequently. And I think that a lot of people have this idea that it's this separate component that people need to be working on. But for us, environmental justice is really about harmonized relationship, what we call Psilde N'dilnabamuk. It's about living in kinship with the rest of creation, with all life. So we understand that we have a certain responsibility to honor the right, that all other living beings have to continue to exist, uninhibited, unmolested in their natural environment, just as we do in ours."
---
Indigenous Climate Action: Community-based solutions rooted in decolonization
Climate Atlas of Canada
July 3, 2019
"Real climate solutions are rooted in a return to the land - a return to and of the land - and are rooted in decolonization," says Eriel Deranger, Executive Director of Indigenous Climate Action (ICA) and member of Athabasca Chipewyan First Nation. ICA is a network of Indigenous peoples framing the ideas and actions regarding climate change in traditional knowledge and community-based solutions. These grassroots actions, Eriel explains, will support the transition to renewable energy while also ensuring social and environmental justice by maintaining and strengthening Indigenous peoples' connections to language, land and culture.
---
Indigenous Environmental Justice, Knowledge and Law
Carleton University, Public Affairs
June 10, 2019
The 2019 Katherine A.H. Graham Lecture on Indigenous Policy featured Deborah McGregor, Associate Professor at York University & Canada Research Chair in Indigenous Environmental Justice.
---
Environmental justice and Indigenous land issues in Massachusetts
Tufts University, Environmental Studies
March 28, 2019
Speaker: Pete Westover, co-founder, Conservation Works. This talk focuses on the current indigenous struggles for land in New England and eastern Canada, focusing on the Penobscot, Nipmuc, Mashpee Wampanoag, Chappaquiddick Wampanoag, and Cree. Pete Westover discussed the work of groups like Conservation Law Foundation, Arise for Social Justice, and Climate Action Now in partnership with Environmental Justice communities on land, energy and climate issues.
---
Why Indigenous Environmental Justice Matters
The IEJ Project
November 2018
Associate professor at York University Deborah McGregor, who is Anishinaabe from Whitefish River First Nation and the Canadian Research Chair for Indigenous Environmental Justice, discusses the breadth and depth of indigenous environmental justice, particularly in its understandings of multispecies justice and the spirit world. McGregor is also joined by Odawa Elder Stanley Peltier and Two-Spirited, Metís filmmaker Marjorie Beaucage in this interview discussion about the challenges facing indigenous environmental justice activists.
---
Understanding Indigenous Environmental Justice
The IEJ Project
November 29, 2018
Various indigenous environmental justice activists—including Anishinaabe artist Nancy Deleary, Anishinaabe scholar Deb McGregor, Metís filmmaker Marjorie Beaucage, and Onondaga activist Adrianne Lickers—address how their traditions help them to see how human well-being is inextricable from Earth's well-being, with all more-than-human beings considered.
---
Wet'suwet'en Hereditary Chiefs: Rightful Decision Makers
The Office of the Wet'suwet'en
2018
Chief Hagwilnegh and Chief Knedebeas, among other Wet'suwet'en hereditary chiefs, discuss land sovereignty for their people as they fight the Canadian government's unlawful environmental injustices.
---
What is Indigenous Environmental Justice?
The IEJ Project
May 18, 2018
In a piece for the Indigenous Environmental Justice Project—a community-based research initiative based out of York University—indigenous figures young and old share about how their intergenerational traditions inform their view of the world's sanctity. The project builds from knowledge held by Elders, activists, women, youth, artists and scholars in order to develop a distinct environmental justice framework that is grounded in indigenous worldviews.
---
The Standing Rock resistance and our fight for indigenous rights: Tara Houska
Ted Talks
April 30, 2018
Still invisible and often an afterthought, indigenous peoples are uniting to protect the world's water, lands and history – while trying to heal from genocide and ongoing inequality. Tribal attorney and Couchiching First Nation citizen Tara Houska chronicles the history of attempts by government and industry to eradicate the legitimacy of indigenous peoples' land and culture, including the months-long standoff at Standing Rock which rallied thousands around the world. "It's incredible what you can do when you stand together," Houska says. "Stand with us – empathize, learn, grow, change the conversation."
---
Indigenous Peoples and Climate Justice ~ Kyle Powys Whyte
Spring Creek Project Bedrock Lectures
April 18, 2018
In his lecture "Indigenous Peoples and Climate Justice," Kyle Powys Whyte showcases indigenous leadership in the climate justice movement and illustrates the unique and grave threat climate change poses to indigenous experiences and ways of life. Climate change is not a new phenomenon for indigenous people, he explains. There are long-standing traditions in indigenous cultures that enable societies to respond to seasonal and inter-annual climate variability. Indigenous people have also already experienced climate change through their endurance of colonialism. Whyte describes how the current threat to indigenous people is a continuation of colonialism and how the consciousness gained from their prior experience with climate change can provide sound leadership for confronting the problem today. This talk is a part of the Bedrock Lectures on Human Rights and Climate Change presented by the Spring Creek Project.
---
The Indigenous: The Frontline
Change for Climate Talks
City of Edmonton
December 9, 2017
This Change for Climate Talk features Eriel Tchekwie Deranger. Eriel is a co-founder and the Executive Director of Indigenous Climate Action, Canada's only Indigenous-led climate justice social movement organization. She is also a Dene Indigenous rights advocate, activist, and member of the Athabasca Chipewyan First Nation (ACFN) of Northern Alberta, Canada, downstream of Alberta's Tar Sands. She talks about how the lands Indigenous Peoples are advocating to protect are important globally and culturally, and why Indigenous Peoples are a critical part of protecting lands and making an impact on climate change.
---
Indigenous Peoples & Climate Change
Indigenous Climate Action
Feb 4, 2017
Names in order of appearance: Sylvia McAdam, a citizen of the nêhiyaw Nation, Treaty 4 Desmond Bull, Louis Bull First Nation, Treaty 6 Melina Laboucan-Massimo, Lubicon Cree First Nation, Treaty 8 Ellen Gabriel, Mohawk - Kanien'kehá:ka Nation, Quebec Sylvia McAdam, ibid Kevin Settee, Treaty 1 Eriel Deranger, Athabasca Chipewyan First Nation, Treaty 8 Clayton Thomas-Muller, Mathais Colomb Cree Nation, Treaty 6, Manitoba Erica-Violet Lee, Student, Indigenous feminist, Saskatchewan Danika Littlechild, Maskwacis, Treaty 6, Alberta Grand Chief Derek Nepinak, Pine Creek First Nation, Treaty 4, Manitoba
---
Sacred Land Film Project
Since 1984, Earth Island Institute's Sacred Land Film Project has produced a variety of media and educational materials — films, videos, DVDs, articles, photographs, reports, school curricula materials and Web content — to deepen public understanding of sacred places, indigenous cultures and environmental justice. Their mission is to use film, journalism and education to rekindle reverence for land, increase respect for cultural diversity, stimulate dialogue about connections between nature and culture, and help protect sacred lands and diverse spiritual practices. For the last two decades they have focused on the production and distribution of documentary films, including In the Light of Reverence (2001), and their four-part series on sacred places around the world, Standing on Sacred Ground (2014)
---
Global Environmental Justice Documentaries
The Global Environmental Justice Documentaries collection has many films on the topic of Indigenous Studies. First released April 2019, this project is a curated compilation of 25 documentaries selected by faculty who wrote the accompanying teacher's guides. The subscriptions, which support the project, are especially low, thanks to underwriting provided by the Luce Foundation.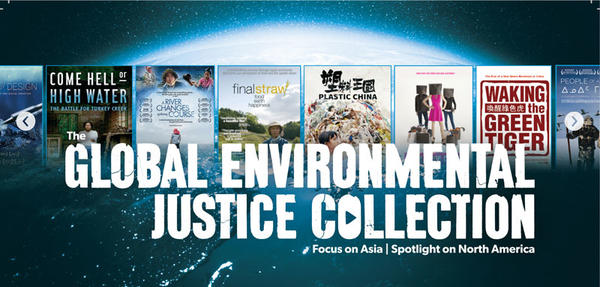 ---
Indigenous People & Climate Change: Social and Environmental Conflicts in Latin America
Avispa Midia News
December 16, 2016
Global warming and the effects of the environmental crisis are matters of global interest that are not only affecting large cities, but also to the small farmers, and particularly to the indigenous peoples who continue to suffer the dispossession of their ancestral lands. The reporting team of Avispa Midia has initiated an independent journalism project to investigate which are the effects and real impacts of the plans that are reorganizing the indigenous and campesinos territorialities in Mexico and Central America, as well as the various alternatives used to counteract the climate crisis.
---
Indigenous Rising: Solutions to the Climate Crisis
Bioneers
December 2, 2016
Visionary Indigenous leaders highlight the need for mainstream understanding of the benefits of protecting human rights as they apply to resource extraction and Mother Earth. This speech was given at the 2016 National Bioneers Conference.
---
Indigenous Perspectives on Environmental Justice
Roosevelt University
Joseph Loundy Human Rights Project
October 6, 2016
Joseph Standing Bear Schranz of Midwest SOARRING discusses his work over the past forty years on native issues with different communities throughout Illinois and the Midwest.
---
Decolonizing Environmental Justice
Portland Community College
September 27, 2016
Portland Community College welcomed Eriel Tchekwie Deranger as a featured speaker for Earth Week 2016. She explored the intersectionality of privilege, oppression, race and environmental justice. Eriel Tchekwie Deranger is a Denè Indigenous rights advocate, activist and member of the Athabasca Chipewyan First Nation (ACFN) of Northern Alberta, Canada. She works alongside various Indigenous and environmental organizations at provincial, national and international levels. Her work focuses on creating greater awareness about the negative impacts on climate, human life, and Indigenous rights surrounding the issue of the Alberta Tar Sands. Eriel is the Executive Director of the Indigenous Climate Action's (ICA). The goal of the ICA is to empower our communities and inspire Indigenous peoples to take climate action. For more information, visit https://www.indigenousclimateaction.com/
---
Kyle Whyte: "Climate Change, Traditional Knowledge, and Environmental Justice"
Indigenous Environmental Justice Symposium
York University
May 26, 2016
The first of its kind in Canada, the IEJ knowledge sharing symposium was held to advance the theory and practice of EJ scholarship by engaging with Indigenous peoples to more fully develop the concept of "justice" and the policies and laws necessary to enable just relations. The IEJ symposium creates a forum to share ideas, knowledge and experiences to help us understand what environmental justice means. Furthermore, if EJ studies are to benefit Indigenous peoples, then they must include knowledge, principles and values already held and practiced by Indigenous peoples. An important way to include and hear the voices and experiences of Indigenous peoples is to engage directly in sharing knowledge through an IEJ symposium. The IEJ symposium brought together activists, youth, women, artists, Elders, scholars, leaders, environmental practitioners, activists, advocates and community members.
---
The Fight for Water Security–TED talk
Chase Iron Eyes outlines the importance of getting involved to secure America's water resources, and the harsh realities of violent, unethical treatment of US Citizens by the government. Chase Iron Eyes is an enrolled member of the Standing Rock Nation.
---
Life in the City of Dirty Water: Cree activist's tale of trauma, healing, and Indigenous uprisings
Indigenous climate justice activist Clayton Thomas-Müller embarks on an intimate storytelling journey, overcoming trauma, addiction, and incarceration to become a leader for his people and the planet.
---
John Grim: "Indigenous Traditions and Ecology"
John Grim discusses Indigenous Traditions and Ecology with Mary Evelyn Tucker. "Indigenous Traditions and Ecology" is part of the larger "Conversations on World Religions and Ecology" project. Watch the whole "Conversations on World Religions and Ecology" series on the Forum on Religion and Ecology YouTube Channel.
---
Keep It In The Ground: Indigenous People Demand Climate Justice
AJ+ News
December 11, 2015
Indigenous rights have virtually been cut out of the UN #COP21 climate talks. But indigenous people have been anything but absent here in Paris. Francesca Fiorentini speaks with members of the Indigenous Environmental Network, including Dallas Goldtooth, Keystone XL Campaign Organizer, Tantoo Cardinal and Farrah Tso of Black Mesa Water Coalition.
---
Indigenous Climate Justice Symposium
Evergreen State College
November 6, 2015
Fossil Fuel Connections Panel: Tribal voices from the front and back ends of the oil & coal train routes: Fawn Sharp, Kandi Mossett, Jeremiah "Jay" Julius, Adriann Killsnight; Zoltán Grossman, moderator. The Symposium is a part of the Climate Change and Pacific Rim Indigenous Nations Project at Evergreen, founded by the Northwest Indian Applied Research Institute (NIARI) in 2006. The Project published a 2006 report for Indigenous leadership, a 2010 community organizing booklet, and the 2012 Oregon State University Press anthology "Asserting Native Resilience: Pacific Rim Indigenous Nations Face the Climate Crisis."
---
Indigenous Women: Earth Defenders Speak Out from the Front Lines of Climate Change
Democracy Now
December 9, 2014
Today is "Gender Day" at the U.N. Climate Change Conference, a day that acknowledges the disproportionate impact of climate change on women, who make up 70 percent of the world's poor. We hear from a panel of indigenous women from around the world who met off-site Monday to share their solutions to climate change. The event, hosted by the Women's Earth and Climate Action Network, featured indigenous women leaders on the front lines of defending the Earth from exploitation by fossil fuel companies. Speakers included Patricia Gualinga, a Kichwa leader from Sarayaku, Ecuador, and her niece, Nina Gualinga. In 2012, the Sarayaku won a case against the Ecuadorean government after a foreign oil company was permitted to encroach on their land.
---
John Grim: "The Native American Response to Journey of the Universe"
Journey of the Universe and Our Elegant Universe Symposium
Chautauqua Institution
June 2013
Dr. John Grim, Senior Lecturer and Scholar at Yale University, discusses the connections between indigenous lifeways and the epic narrative of Journey of the Universe. Drawing insights from Croix, Haudenosaunee, Navajo, and Apache peoples, Dr. Grim suggests that there are shared themes regarding the importance of a journey, the stars, narratives, and cosmovisions that orient humans to their local surroundings and the cosmos.
---
Tom B.K. Goldtooth on the Struggles of Indigenous Peoples
2012 Bioneers Annual Conference
Tom B.K. Goldtooth, Executive Director of the Indigenous Environmental Network, discusses some of the struggles of indigenous people, opening with a song. This talk (of which only a clip is shown) was presented at the Indigenous Forum at the 2012 Bioneers Annual Conference.
---
A Wet'suwet'en perspective on the Enbridge Northern Gateway oil pipeline.
---
Tom B.K. Goldtooth - Indigenous Environmental Justice
2001 Bioneers National Conference
Native American global leader and Executive Director of the Indigenous Environmental Network Tom Goldtooth shows that at the root of indigenous survival is gratitude for the generosity of Mother Earth and biodiversity. He contrasts this worldview with neo-colonial approaches such as genetic engineering, patenting of life, dirty energy extraction, and "Free Trade" that leads to exploitation, poverty, violence and international discord.
---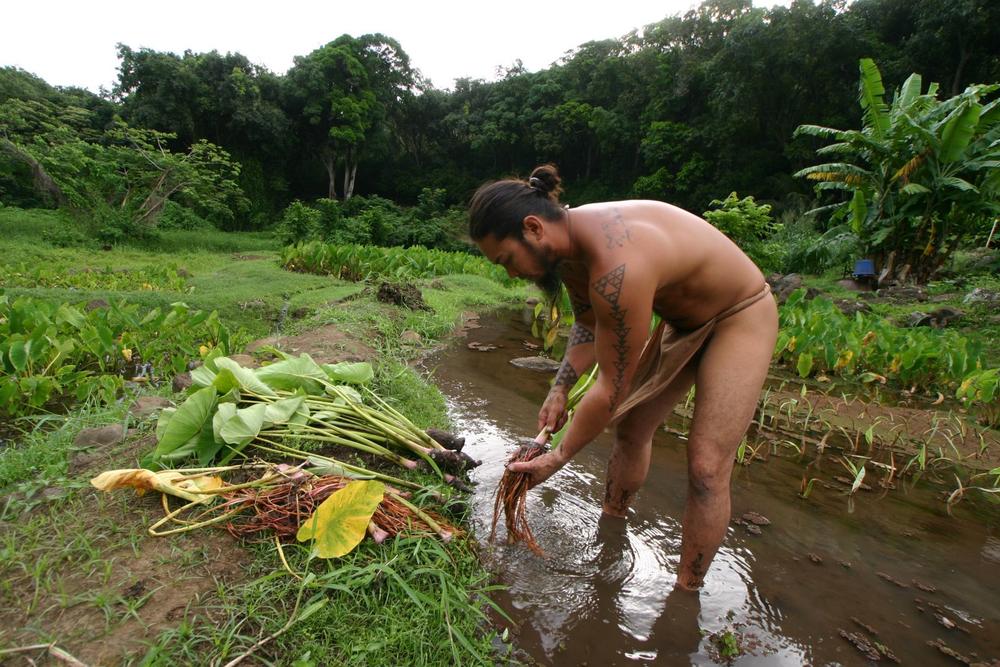 ---
Header photo: ©Christopher McCloud; Q'eros farmers harvest potatoes in the Andes, Peru. In recent years, they've been forced to move their crops uphill; from the documentary Standing on Sacred Ground