Event description: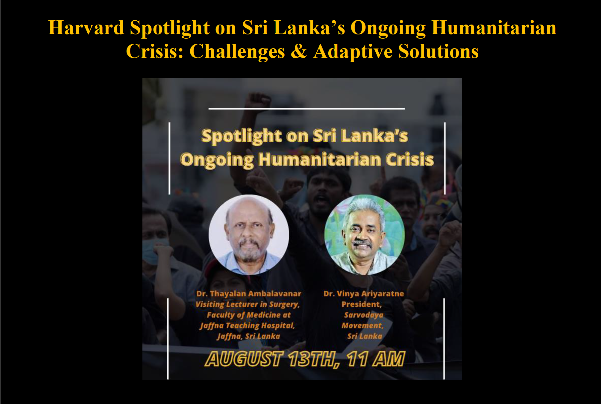 August 13, 2022
Online at 11am EDT
Please sign up here for the Zoom event and more information
Click here to join this Zoom event.
In response to the ongoing crisis in Sri Lanka, the South Asian Associations of Harvard Medical School, Harvard College, Harvard Law School and Harvard Business School present "Spotlight on Sri Lanka's Ongoing Humanitarian Crisis: Challenges & Adaptive Solutions", an educational campaign and fundraiser.
On August 13th they will be hosting a Zoom webinar - Dr. Thayalan Ambalavanar from Jaffna Teaching Hospital, the only tertiary government hospital in the Northern Province of Jaffna and Dr. Vinya Ariyaratne from Sarvodaya, a Sri Lankan NGO providing food and medical support, will be discussing their responses to this crisis. This will be kicking off a week of fundraising with all funds going directly to these community-based organizations, Jaffna Teaching Hospital and Sarvodaya, to fund food distribution, medicine, and medical supplies.