Event description: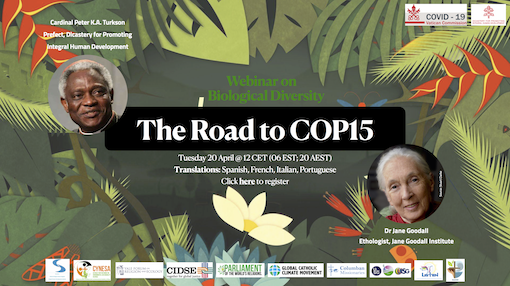 April 20, 2021
6am Eastern Time
We invite you to join Cardinal Peter Turkson and Dr. Jane Goodall to discuss "The Road to COP15" on Tuesday, April 20 at 12pm Central European Time / 6am Eastern Standard Time. This webinar will be conducted in English, with translations available in Spanish, French, Italian, and Portuguese.
Today we face multiple crises. The COVID health crisis, the climate crisis and the biodiversity crisis are three interconnected crises calling us to change direction towards a regenerative civilization with an integral ecological story and pattern of life. The 2020 United Nations Global Biodiversity Report notes the importance of biodiversity in addressing climate change, long-term food security and concludes that action to protect biodiversity is essential to prevent future pandemics. We, leaders of universities, scientific research and ecclesial bodies sense that we are at an inflection point, with life altering consequences and a responsibility to act. It is time to amplify Pope Francis' teachings in Laudato Si' to co-create life giving relationships with creation and inspire thousands of people to do the same with the output of our roundtable, public webinar, education and advocacy to regenerate healthy ecosystems on Earth. When biodiversity flourishes, human life flourishes.
Partners supporting this Dicastery initiative on biodiversity are GCCM, REPAM, REBAC, RAOEN, CIDSE, CYNESA, ISVUMI, Columbans, LISTEN, Yale Forum on Religion and Ecology, UISG and PoWR.
Watch the video of the prayer from the webinar.
 
Watch the full recording of the webinar: